Caudumer Holsteins named Dutch Breeder of the Year!
The Haytema family, breeder of well-known (proven) bulls such as Caudumer Solitair P Red, Caudumer Batch P, Caudumer Europol RF PP, Caudumer Smile P RF, Goch and top seller Caudumer Moment PP Red was named Breeder of the Year 2022 last Friday during the national HHH show! Caudumer Holsteins is very successful in the international polled breeding and therefore managed to win the heart of the judge.
The title ''Breeder of the Year'' is awarded every year during the national show of initiator Holland Holstein Herds. The judge, consisting the well-known journals Holstein International, Melkvee and Veeteelt, came to a joint decision to award the ''Red & White Breeder of the Year 2019'', Caudumer Holsteins, for the breeding success of the past few years!
Breeding top index sires starts with breeding top bull dams. Successful and well-known families at Caudumer Holsteins are the Lol's, Hinkes and the Zalias. Caudumer Lol 422 PP Red, the first lactation Handy P, is the dam of several bulls in AI, including Delta Cartoon P-Red, Delta Launch PP-Red, Delta Louis P Red and Delta Emoji P-Red. All these polled bulls are in the top 15 gNVI red-polled sires of August 2022! Caudumer Lol 442 Red herself ranked the top 10 gNVI R&W for quite some time and also the next generation, a Delta Eloy RDC grandson of Lol 442 Red is with 373 gNVI the current number 4 R&W gNVI!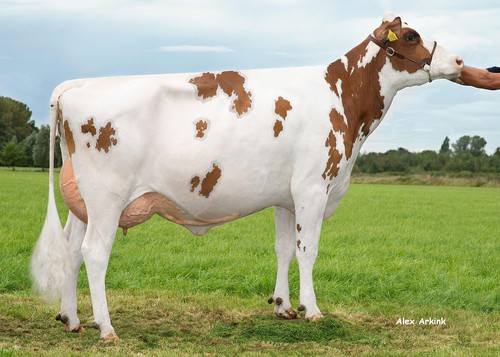 Caudumer Lol 422 PP Red (s. Handy P
Caudumer Lol 306 PP Red EX-91, the first homozygous polled cow in the Netherlands which produced 100,000 kgs of milk, was bred by the Haytema family! The dam of the progeny proven Delta Fun P Red was sold as a heifer to CRV, because of her interesting transmitting profile.
The Zalia family at Haytema also produced some AI bulls. Partly due to their enormous will to produce a lot of fat and protein, this family was used to transmit top offspring based on RZG and NVI. A good example is Jacuzzi-Red daughter Caudumer Zalia 10 RDC VG-86. Not only does she show a projected second 305-day lactation of 10,469 kgs of milk with 5.18% fat and 4.18% protein, but she is also the dam of Caudumer Flynn at KI Kampen.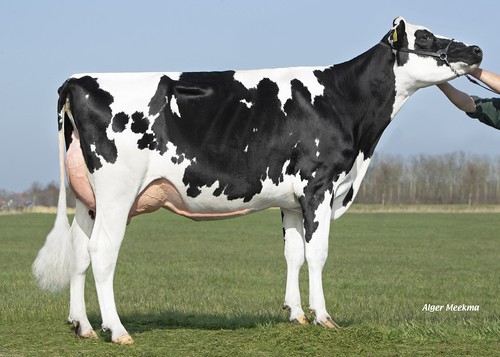 Caudumer Zalia 10 RDC VG-86 (Jacuzzi-Red x Caudumer Zalia 2 RDC VG-87)
Regarding conformation, the Haytema family still likes to participate in shows. A cow family that is very successful in the show ring are the Hinkes. For example, Caudumer Hinke 111 Red (by Mr Burns RDC) was good for VG-89. She participated in the NRM of 2013 and managed to achieve success during the local show in Workum. Daughter Caudumer Hinke 220 Red EX-90 (by Savage RDC) followed her footsteps not long after and won the Grand Championship in Workum in 2015.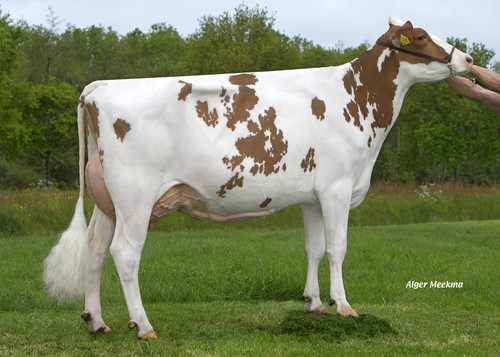 Caudumer Hinke 220 Red EX-90 (s. Savage RDC)