A big milestone for Newhouse Sneeker 422!
General
Newhouse Sneeker 422 VG-87, the 20th Dutch Stol Joc with a lifetime production of 100.000 kgs M!
The 11-year-old Newhouse Sneeker 422 VG-87 has recently achieved the magnificent lifetime production of 100,000 kgs of milk! This Stol Joc daughter from the well-known Sneeker family of Newhouse Holsteins has had a lot of influence in GenHotel's 3STAR breeding program.
Just fresh from her first calf, GenHotel bought Sneeker 422 VG-87 from Newhouse Holsteins and frequently flushed her to create offspring for the breeding program. Sons were sold to European AI-studs and high female offspring were used in the breeding program. In this way grandsons K&L BC Snake (# 1 gICO, 03-2017) and K&L JS Donsimon (# 2 gICO, 10-2017) were born. In total, at least 38 male & female offspring are born from this cow!
The 11-year-old VG-87 Stol Joc has a full sister Newhouwe Sneeker 423 VG-88, which passed the milestone of 100,000 kgs back in 2018. Above all she also reached the 10,000 kgs fat and protein production. Their maternal brother by Goldwyn - Newhouse Gofast - has almost 13,000 daughters just in the Netherlands! 
After Sneeker 422 VG-87 was purchased by GenHotel, she was housed at Benthemmer Holsteins. Here she has been well taken care of and partly because of this, she managed to produce 100,276 kgs with 3.81% fat and 3.52% protein in 2818 days! This makes her the 20th cow sired by Stol Joc in the Netherlands with a life production of more than 100,000 kgs.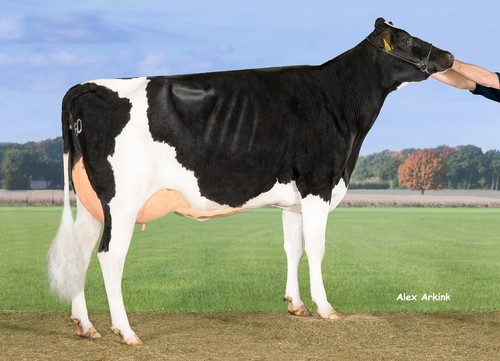 Newhouse K&L Sneeker 6960 VG-86 (Shotglass x Newhouse Sneeker 422 VG-87) - dam of K&L BC Snake & K&L JS Donsimon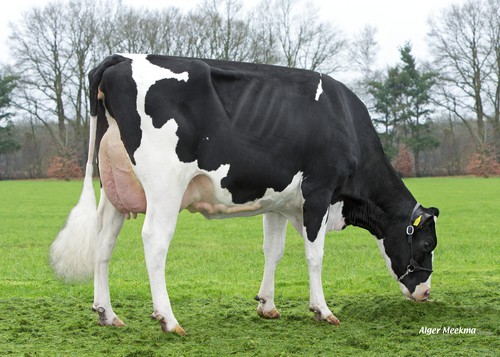 Newh K&L Sneeker 423 GP-83 (Snowflake x Newhouse Sneeker 422 VG-87)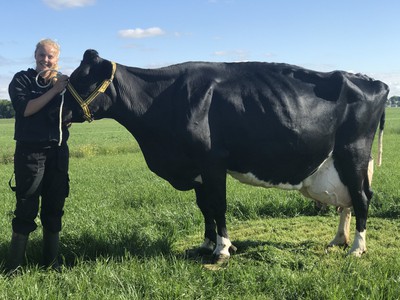 Newhouse Sneeker 423 VG-88,full sister of Sneeker 422 VG-87. Lifetime production = 141,159 kgs M 4.05%F & 3.58%P