3STAR Visstein Adola Red, essential donor for Embryo Program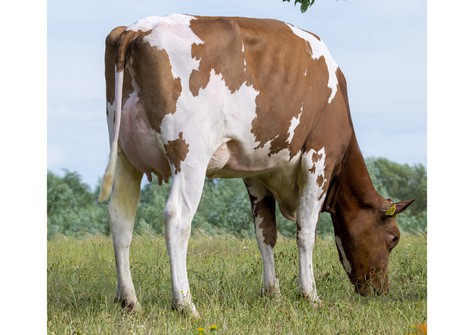 General
3STAR Visstein Adola Red, picture by Anna Joosse
Several embryos from different sires were produced for the 3STAR Embryo Program by 3STAR Visstein Adola Red, a Rubels-Red from icon Visstein K&L SV Aderina Red VG-89. Produced embryos were sold to customers in Belgium, Germany and the Netherlands and the first high-testing offspring are now in the picture as well!
As we have come to expect from the KHW Goldwyn Aiko RDC line from foundation cow Kamps-Hollow Durham Altitude, offspring provide a huge amount of fat & protein, great conformation and high indexes in various systems. These genes also appear to have been transferred to 3STAR Visstein Adola Red. Her genomics profile shows high components, impressive health traits and interesting total indexes that allowed the Rubels-Red to grew into an important donor for the 3STAR Embryo Program. The German AI station VOST also saw the potential in this bloodline and bought one of her Koepon AltaRefine-Red sons.
Adola Red's owners Visstein and GenHotel can now enjoy a beautiful, youthful milking heifer with a well-attached udder that also produces plenty of milk. The next generation is already ready to rumble with the 157 gRZG (129 EUT) testing 3STAR HLB Adola Red (by AltaRefine-Red) and Rammstein Red daughter VDR 3STAR Adriana Red with a lovely genomics profile that shows 152 gRZG with very high fat & protein and awesome type indexes (133 FUN and 127 RZE).
From this branch are embryos for sale. Check the EmbryoSale!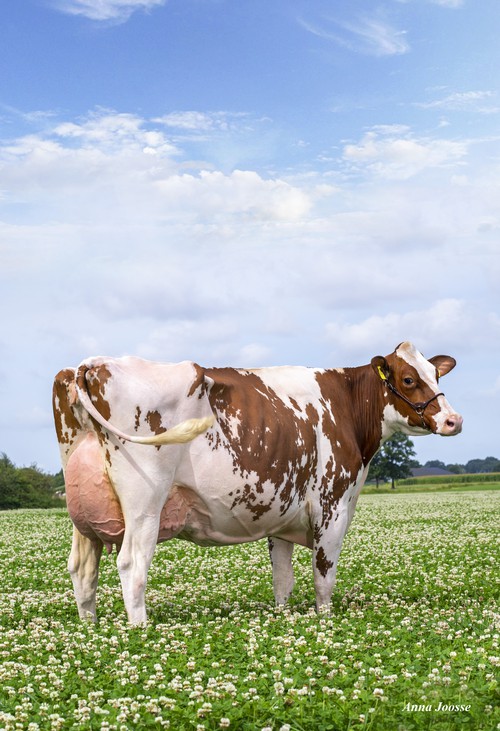 Dam: Visstein K&L SV Aderina Red VG-89 (s. Salvatore RC)