3STAR Konika Red moved to VG-89!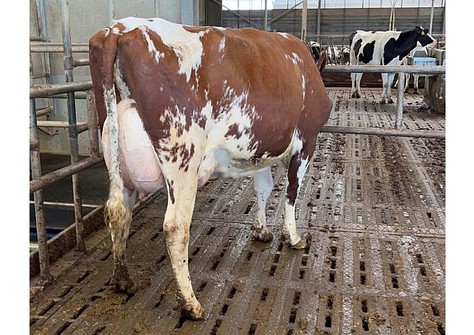 General
3STAR Konika Red fresh in 2nd lactation
The recently calved Bentehoek Andy Red daughter 3STAR Konika Red was re-classified, fresh in her second lactation, by the Dutch herdbook. Owners Goesten-Pullen are very happy with the new score of the Wilder Kanu 111 RDC offspring, implanted as an embryo at their farm!
Through the 3STAR Embryo Program, some embryos were transferred back in 2019 by a special offer for the Goesten-Pullen family. One of these embryos, Andy-Red x K&L SK Kontiki Red VG-85, resulted in the birth of Konika Red. A heifer calf that was a resemblance of her dam in terms of her color and markings. The genomics tests that followed showed that the Andy-Red did not score high enough for GenHotel to continue breeding with this Kanu 111 RDC descendant, after which the young Konika Red ended up in the ownership of the Goesten-Pullen family.
The first pregnancy with Poppe Freestyle-Red resulted in the birth of a bull calf. Konika Red closed this first record with 10,191 kgsM with 4.90% fat and 3.52% protein (320 days). Also, with her first classification, the enormous conformation potential was underlined, because she easily hit VG-88 with a max. score of VG-89 for her solid Feet & Legs.
For the 2nd lactation she was bred by sexed ST Gen Doral-Red, so that the Goesten-Pullen family was assured with a red heifer calf from this great performing, young cow! At the beginning of March, the deep red Konika Red calved again and now rises smoothly to a daily production of more than 50 kgs of milk. A new visit from the Dutch herdbook increased the score of the Andy-Red to max. VG-89 with even EX-90 for her Feet & Legs.
Embryos from the same branch are available! Click here for more information.
Would you also like to participate in the 3STAR Embryo Program? Find out more here.