Sire of Sons page up-to-date
Sires
Riethil Summerlake, Charley x Riethil Summer Love
The list with "SIRE OF SONS" is updated again. You can find at least 15 new bulls that are available. For example the high GTPI bulls Bomaz Skywalker (Jedi x Cabriolet) with +2854 GTPI and Mr Spring Noble (AltaSpring x Numero Uno) who offers +2838 GTPI.
Germany
Some interesting bulls for the German (RZR) market are Sandy-Valley Braveness (+160 GRZG; Bandares x Balisto), Royce (+159 GRZG; Roxy B x Supershot), Keith (+159 GRZG; Kerrigan x Balisto) and Riethil Summerlake (+160 GRZG; Charley x Balisto), breed by Riethil Holsteins out of Riethil Summer Love. Keith (+371 GNVI) and Summerlake (+381 GNVI) also have very high genomic breeding values on Dutch basis.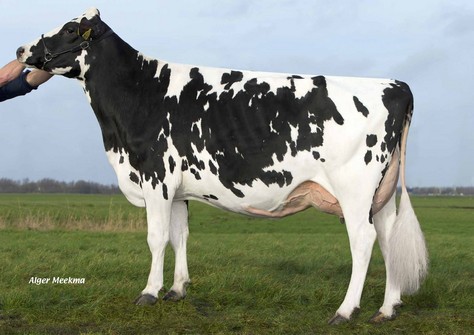 NH Super Islandwave EX-90, great-granddam to Summerlake
Red & Polled
Available Red Sire of Sons are for example Morningview RUW El Toro (+150 GRZG / +299 GNVI; Eloped Red x Racer) and Red Rocks Sakai Red (+147 GRZG / +309 GNVI). Last mentioned is breed by Red Rocks Holsteins. His dam Red Rocks Massia 100 Red, an Aikman daughter backed by the Massia family.
Suitable for both R&W and Polled breeding programs are the Red bull Mindmap P-Red (+152 GRZG; Mission x Nugget) and the Red Carriers My Dream P RDC (+157 GRZG / +296 GNVI; Mission P x Shotglass) and Match P RDC (+156 GRZG; Mission P x Silver).

Red Rocks Sakai Red, Sveen P x Red Rocks Massia 100