Photo(news) Riethil Holsteins
General
Update Riethil Holsteins!
Recently two cows at Riethil Holsteins were shining 'in the picture'. One of these cows was bulldam Riethil Summer Love VG-86 (s. Balisto) the second cow which is photographed was the fancy Silver daughter Riethil Jasmine VG-85! 
You may already know Riethil Summer Love VG-86 (Bookem x VG-89 Mogul) as bulldam of Riethil Summerlake. Summerlake is a three year-old Charley sun with 157 gRZG. He's owned by Masterrind in Germany. Summer Love got not long ago a new classification score of VG-86 with 90 for her nice dairy system. She's in her third lactation right now. Her milkproduction in 305 days: 10.283kg, 4.88%f with 3.56%p. Summer Love VG-86 descends from Ugela Bell daughter Gourmette EX-92.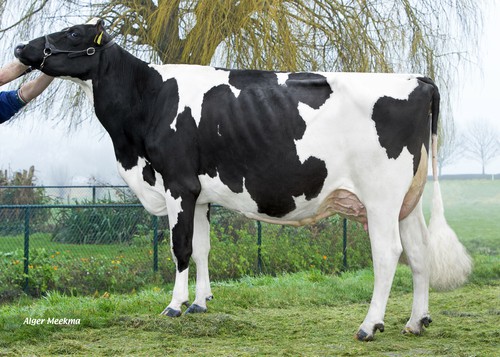 Riethil Summer Love VG-86 / 90DS (s. Balisto)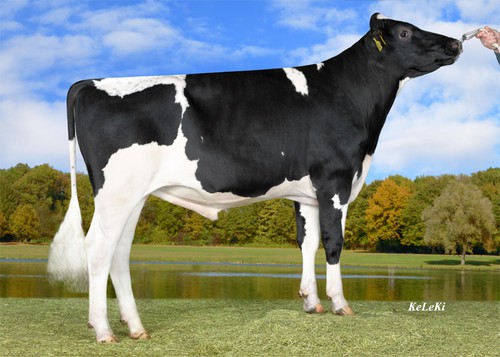 ​Riethil Summerlake (s. DG Charley) sun of Summer Love VG-86 at Masterrind
Also this fancy second calver  Riethil Jasmine VG-85 (Silver x VG-86 Supersire) was worth a shot. In her 2e lactation will be her 305-days production estimated to be 10.494kg with 4.25% fat and 3.20% protein. She's from a rather deep German cowfamily, which is popular of it's high index. Jasmines pedigree leads her to Laudan daughter WEH Jessica VG-88.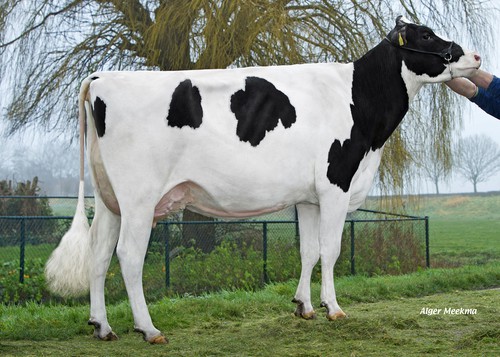 Riethil Jasmine VG-85 (s. Silver)