New Moore Holsteins refines with new cow families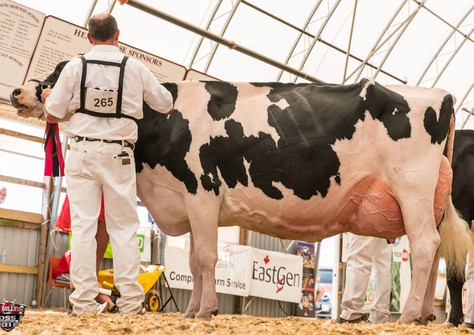 General
Nipponia R D Lizabeth EX-96, dam of the two new born Alleyoop heifers at New Moore Holsteins
The purchase of embryos from strong conformation cow families has recently led to the expansion of the New Moore Holsteins herd. Investing in progeny of show cow families, such as Carf Emeraude, Prairie Hoeve Hendrika and Acme Star Lily, takes the New Moore herd to an even higher level.
The Prent-Withaar family is a big fan of deep show cow families. In addition to the fact that they like to participate in (national) show competitions, they also like to visit large Holstein shows throughout Europe. From this passion their enthusiasm grows to refine their herd with the best cow families.
Just moved to EX-90, Prairie Hoeve Hendrika 82 came to New Moore Holstein in 2019 after being purchased by Schuiling. Hendrika 82 is a Larcrest Contrast from the well-known cow family of Verwaaijen. The flush with the top type sire Walnutlawn Sidekick has resulted in New Moore Sk Hendrika. This young Sidekick is also a granddaughter of the successful Dutch show cow Prairie Hoeve Hendrika 39 EX-91 (by Goldwyn).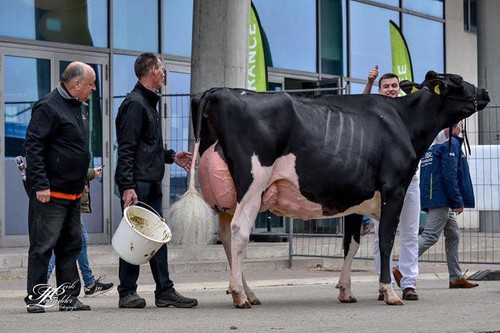 Prairie Hoeve Hendrika 82 EX-90, Contrast dam of New Moore Sk Hendrika
From the well-known Goldwyn Carf Emeraude EX-91, Prent bought embryos by Farnear Delta-Lambda. One of these embryos grew into a heifer calf, New Moore Eyes On Me. This means that the Prent-Withaar family owns a maternal-sister of the Grand Champion UK Dairy Expo 2022: Riverdane Doorman Elke VG-89 and JK Eder DG Esmeralda EX-92 (both by Doorman)! The originally French Emeraude is currently the only living Holstein in Europe with no less than 6 EX classified daughters!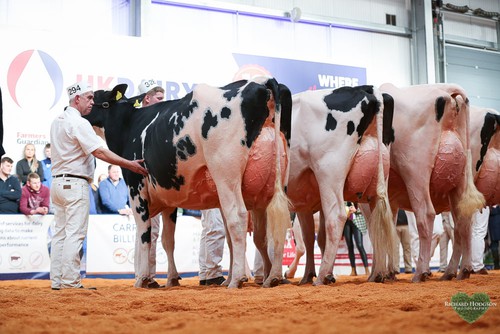 Riverdane Doorman Elke VG-89, winning the UK Dairy Expo 2022
Canadian show diva Nipponia R D Lizabeth EX-96 won multiple titles throughout her life, including the Grand Championship Northumerland in 2012 and 2014. Recently, two direct Brabantdale Alleyoop daughters were born: New Moore Lp Lizzy and New Moore Lp Lizzy Lilith. Via EX-96 Dundee x EX-91 Lee they descend from the EX-94 Acme Star Lily - 3x All Canadian & 2x All American! Lizzy and Lilith have several excellent maternal sisters, including Kingsway Goldwyn Elsie EX-90 and Kingsway Goldwyn Elvira EX-90.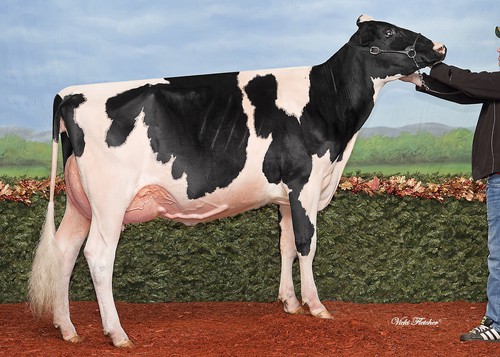 Kingsway Goldwyn Elsie EX-90 (Goldwyn x Lizabeth EX-96)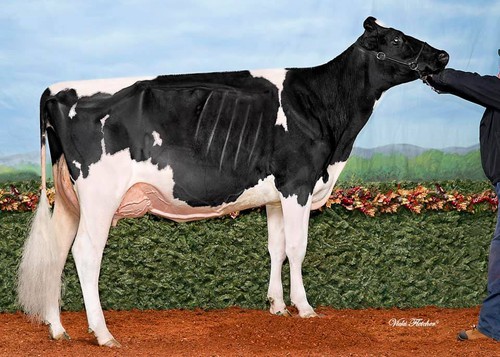 Kingsway Goldwyn Elvira EX-90 (Goldwyn x Lizabeth EX-96)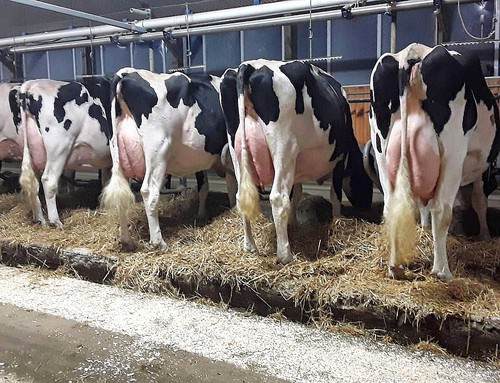 ​4 EX daughters of Nipponia R D Lizabeth: Elenor EX-90 - Elizabeth EX-93 - Elsie EX-90 - Uno Electra EX-90