Herd classification at Aalshorst Holsteins
General
K&L Sh Fina VG-86, dam of Fina 2 VG-86 & Fina 3 VG-85
Ten milking 2-yr-old heifers at Aalshorst Holsteins, Roland Scholten in Dalfsen, are classified recently with 84.1 points Total Score and 84.2 for mammary. Highest scored heifer is Aalshorst Geertje 241 VG-87, a well balanced Poppe Ferdi daughter with a high and wide attached udder (VG-87) out of the homebred Aalshorst Geertje family. Her granddam is the renown brood cow Aalshorst Geertje 54 Red VG-88, the dam of the popular proven sire Aalshorst Pleasure Red. Geertje 241 was selected for the Poppe Ferdi progeny group at the NRM in Zwolle this year.
Also the powerfull Aalshorst K&L Fina 2, a Burano (Balisto x Mayfield) daughter from the high producing K&L Supershot Fina VG-86, is scored VG-87 for her well attached, shallow mammary and VG-86 total. Fina produces already 6 months ± 40 kg/day and is projected over 11.000 kg (+ 21%).
Aalshorst Fienchen 15 VG-85 is a recently calved Jetset out of  Poppe Fienchen 804 VG-88 (s. Danillo), the dam of Poppe Ferdi.
|   Name  |   Sire x MGS |   Cow family | Lac | FR | DS | MS | FL | TOT |
| --- | --- | --- | --- | --- | --- | --- | --- | --- |
| Aalshorst Geertje 241 | Ferdi x Canvas | Aalshorst Geertje | 1 | 87 | 87 | 87 | 86 | 87 |
| Aalshorst K&L Fina 2 | Burano x Supershot | Windy-Knoll-View Promis | 1 | 85 | 86 | 87 | 84 | 86 |
| Aalshorst K&L Fina 3 | Finder x Supershot | Windy-Knoll-View Promis | 1 | 85 | 85 | 86 | 85 | 85 |
| Aalshorst Fienchen 15 | Jetset x Danillo | Poppe Fienchen | 1 | 83 | 84 | 85 | 86 | 85 |
| Aalshorst Goli Flower 3 | Ferdi x Doorman | Ralma Juror Faith | 1 | 87 | 86 | 84 | 83 | 85 |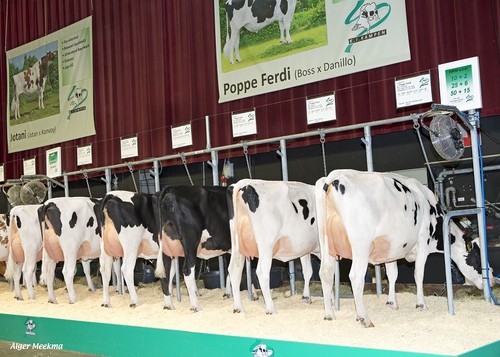 Poppe Ferdi progeny goup at NRM, with Aalshorst Geertje 241 VG-87 (2nd cow from left)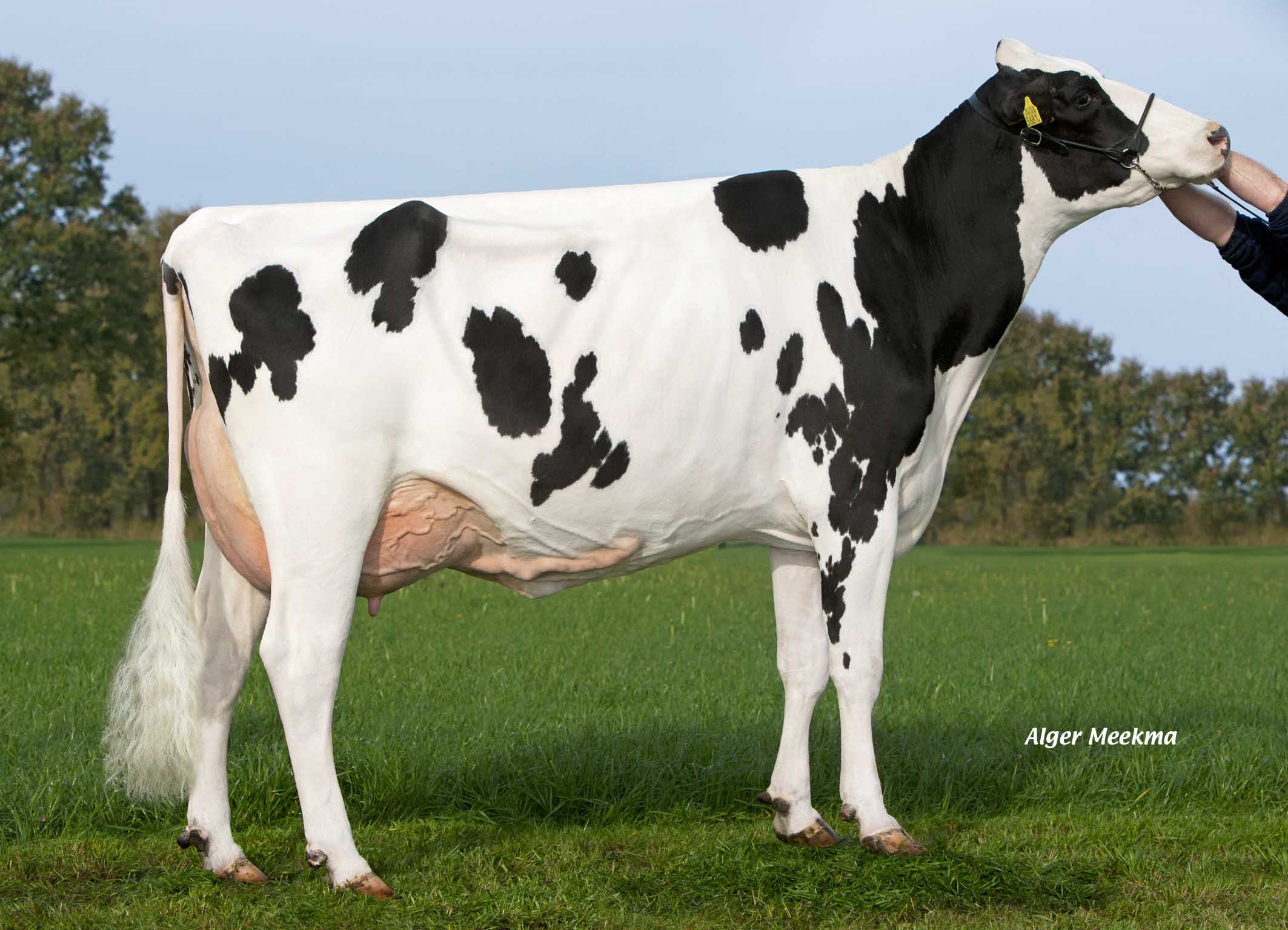 FG Policy VG-88 (s. Planet), 3rd dam of Aalshorst K&L Fina 2 VG-86 (s. Burano)
                                    and Aalshorst K&L Fina 3 VG-85 (s. Finder)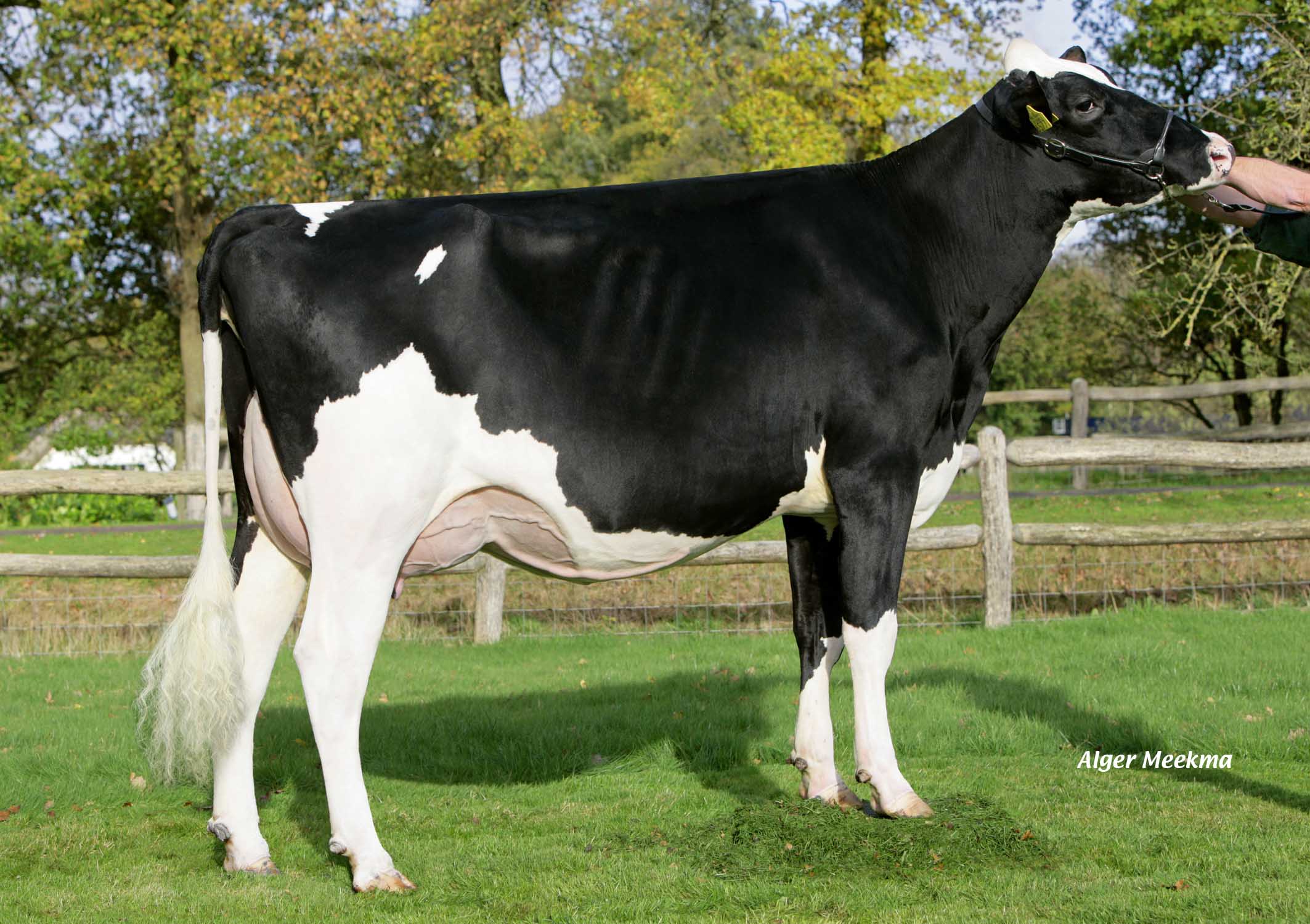 Bouw Goli Flower VG-87, granddam of Aalshorst Goli Flower 3 VG-85 (s. Ferdi)
                                     and dam of proven sire Bouw Rocky