Great classification at Aalshorst Holsteins!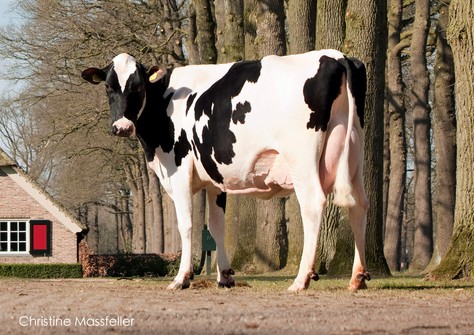 General
Aalshorst Geertje 103 RDC (s. Goldwyn), 3rd dam of Aalshorst Geertje 268 VG-86
At Aalshorst Holsteins, the Scholten family in Dalfsen, 16 Holstein and Red Holstein heifers have recently been classified with a great average score of 84.0 points Total Score and even 84.9 for udder. Also 4 cows have been rescored, which have now all achieved the VG score.
The highest classified heifer this round is Aalshorst Goli Flower 4, who is scored VG-87 (VG-86 udder). The fraimy Goli Flower 4 is a double Aalshorst breeding product, as her sire is Aalshorst Multiplayer RDC (Silver x Jerudo) and her dam is Aalshorst Goli Flower 2, a VG-85 Doorman x VG-87 Goli x Bouw Goldwyn Femmy EX-90. Aalshorst Geertje 268, a balanced Esperanto from the family of bulls such as Aalshorst Pleasure-Red, Balaton-Red and Rody-Red, has been classified with VG-86 and VG-86 udder.

    Bouw Goli Flower VG-87, granddam of Aalshorst Goli Flower 4 VG-87
Of the 6 red-and-white heifers, who scored an average of 84.7 points and 85.5 for udders, the sublime uddered Aalshorst Fienchen 25 Red was classified the highest with VG-86 and VG-87 udder. This beautiful Rosebud-Red daughter comes from the Poppe Fienchen family, known for proven bulls such as Poppe Ferdi and Efrain-Red and young bulls Poppe Frisk-Red, Ferro-Red and Freestyle-Red.
An offspring from the 3STAR breeding program, Aalshorst K&L Sina 5 Red, a Goal-Red daughter of Aalshorst K&L Sina 1 RDC VG-86, also has a nice score: VG-85 with VG-87 udder!
The overview with the highest classified females:
|   NamE |   PEDIGREE | COL | Lac | FR | DS | MS | FL | TOT |
| --- | --- | --- | --- | --- | --- | --- | --- | --- |
| Goli Flower 4  | A. Multiplayer RDC x Doorman | Z | 1 | 87 | 85 | 86 | 88 | 87 |
| Fienchen 25  | Rosebud-Red x Colorado-Red | R | 1 | 86 | 81 | 87 | 85 | 86 |
| Geertje 268  | Esperanto x Silver | Z | 1 | 87 | 87 | 86 | 85 | 86 |
| K&L Sina 5  | Goal-Red x Apoll P Red | R | 1 | 84 | 85 | 87 | 85 | 85 |
| Geertje 273  | A. Timo-Red x Red Mist | R | 1 | 84 | 83 | 86 | 86 | 85 |
| Melda 140  | Born P RDC x Bolt RDC | R | 1 | 84 | 86 | 86 | 81 | 85 |
| Geertje 269  | Bumper x Peak | R | 1 | 87 | 85 | 83 | 86 | 85 |
| Geertje 131 RDC | Elburn RDC x Goldwyn | Z | 7 | 82 | 85 | 89 | 82 | 86 |
| Fienchen 20  | Rosebud-Red x Apoll P Red | R | 2 | 86 | 87 | 87 | 83 | 86 |
| Geertje 193  | Red Mist x Kylian-Red | R | 5 | 83 | 81 | 86 | 86 | 85 |
| Geertje 184 RDC | Ricardo-Red x Fidji-Red | Z | 5 | 86 | 86 | 86 | 81 | 85 |