All-American Holstein winners!
Every year, Cowsmopolitan organizes and publishes the All-American elections for the Holstein and Jersey breeds. Last week, after an exciting period of voting, the winners were announced! Below you can take a look at some of the winners.
Among the winning are some very well-known, big names. For example, the Champion Bred & Owned World Dairy Expo 2022 and also class winner Aged Cow WDE 2022, Ms Beauty Black Velvet EX-96, has been named Lifetime Production Cow All-American 2022. The Goldwyn daughter had to compete with the wellknown Pierstein Cicero Time Out EX-96 - 2nd Senior 6-Yr-Old WDE 2022 and Mr Apple's Armani daughter Carpsview Armani Velvet EX-95, which were respectively named Res. All-American Aged Cow & HM All-American Aged Cow. Black Velvet has a son in AI sired by Farnear Delta-Lambda, namely Duckett Lambda Voyage.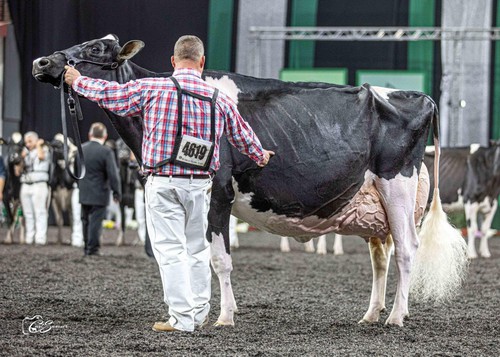 Ms Beauty Black Velvet EX-96 s. Braedale Goldwyn
In the 5-Yr-Olds category, the Res. Senior & Res. Grand Champion WDE 2022, Oakfield Solomon Footloose EX-96, took the title. The Walnutlawn Solomon daughter owned by M&J Duckett, Vierra Dairy &T&S Abbott, was also named World Champion 2022 earlier this month through an annual competition by the magazine Holstein International! In doing so, she follows the footsteps of her granddam Harvue Roy Frosty EX-97. Frosty has won multiple big titles throughout her show career, including Grand WDE 2010 + 2009, Res. Grand Royal 2009 and Res. Grand WDE 2007. She also preceded her Solomon granddaughter in winning the HI competition eleven years ago.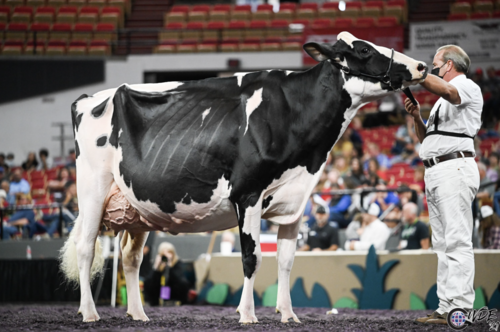 Oakfield Solomon Footloose EX-96 s. Walnutlawn Solomon
The four-year-old S-S-I Doc Have Not 8784 EX-95, of which two of her daughters produced embryos which were imported by GenHotel last December, was nominated in the class 4-Yr-Old All-American Cow. The Woodcrest King Doc from the Dellia family sold for a record price of $ 1,925,000 at the Summer Selections Sale in Wisconsin. In addition to the fact that the young dairy cow herself was offered, the lot number also included a package of pregnancies. This competition made her 'Res. All-Amarican 4-Yr-Old 2022'! She had to compete with the 1st Place and Best Udder of the Royal 2022, Oak-Ridge-K GChip Turbo EX-95, which won this category.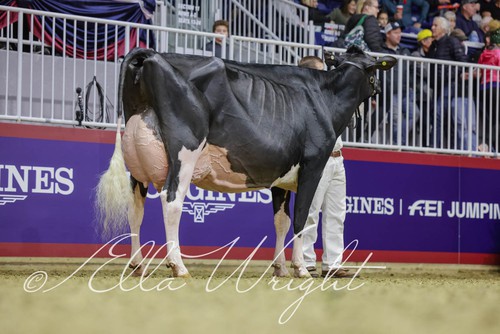 Oak-Ridge-K GChip Turbo EX-95 s. Mr. Chassity Gold Chip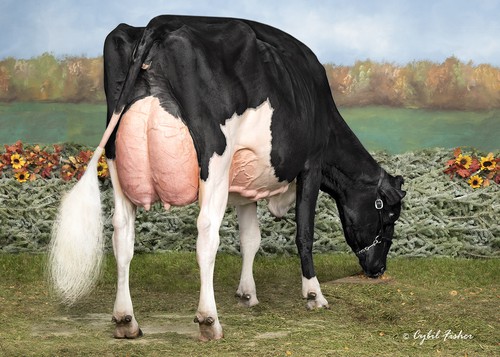 S-S-I Doc Have Not 8784 EX-95 s. Woodcrest King Doc
Although the Red Holstein legend, who dominated every show ring for an entire year, is no longer alive, Blondin RD Unstopabull Maple-Red EX-94 still manages to mark the Red and Holstein breed for a long time! After winning Grand B&W Holstein at the Royal 2022, Grand R&W Holstein at the Royal 2022, Res. Grand WDE 2022 and Intermediate Champion WDE 2022, there was only one title left to get. It was no surprise then, that the EX-94 Unstopabull-Red was unanimously had been chosen as All-American Senior 3-Yr-Old.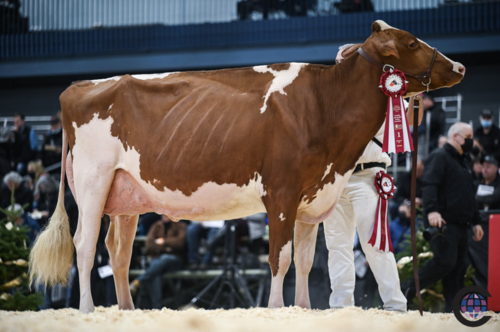 Blondin RD Unstopabull Maple-Red EX-94 s. Riverdown Unstopabull-Red