Spectacular offer from RZN and Wilder Holsteins!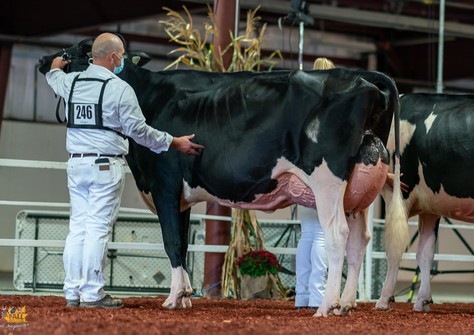 Sales
Terrylea Goldwyn Bombshell EX-92, dam of lot 41
The German GenHotel members RZH and Wilder Holsteins offer a total of five animals at the European Classics Sunrise Sale in Mechlenburg-Vorpommern, Germany, this Friday evening, March the 24th. Be there live on location in the RinderAllianz-Vermarktungszentrum or online, to get your hands on these amazing genetics.
Wilder Holsteins offers two heifer calves from two of their most prominent cow families, namely Wilder Kanu 111 RDC and the Wanya VG-89 line from To-Mar Wayne Hay. Both cow families have already produced many success stories for the Holtkamp family, when it comes to bulls that were sold to various AI organizations and high female offspring, transmitting top indexes.
Lot 34 WIL Hugo Kleo P (Hugo PP RDC x VG-87 Aristocrat x VG-89 Salvatore RDC)
This polled HIN 3STAR Hugo PP RDC daughter with BB kappa casein tests on the German basis a nice 156 gRZG with positive components, 129 gRZN, 129 gRZGes and a nice udder score of 120. Grandam Wilder Kosmo RDC VG-89 is a brilliant Salvatore RDC with EX-90 scored mammary and produces 13,601 kgsM in her third lactation with 4.07%F and 3.28%P (in 279 days). As a donor, she has achieved great breeding results, with offspring up to 159 gRZG! The VG-89 Salvatore comes from the well-known WIL Koncert RDC, which unfortunately never calved, but has managed to build up a considerable reputation as a bull dam. Koncert RDC has sons such as Wilder Paladin Red @RUW, the progeny proven Wilder Pantheon @RUW and Wilder Salud @Xenética Fontao.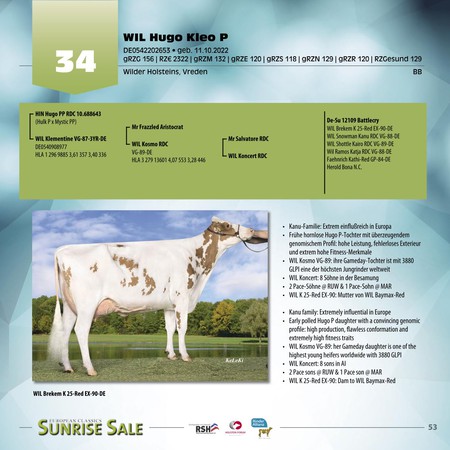 Lot 38 WIL Rover What A Moment (Rover x VG-87 Basic x GP-83 Lighthouse)
From WIL Watt VG-87 (by Blumenfeld Frazld Basic), Holtkamp bred the outstanding Wilder Rover What A Moment, a 164 gRZG testing and early daughter of the bull Peak Rover. It's striking that in addition to her enormous RZG, she also scores 2943 gTPI (935 NM$)! It is not often that you find the opportunity to get your hands on such an index topper. Striking are What A Moment's high breeding values for milk (150 gRZM), super components, impressive values for heath including 127 gRZN, her huge 2802 gRZ€ and 132 gRZE. This Rover is by far the highest offspring of Watt VG-87! AI bulls hailing from this cow family include Wilder Cashpoint, Janosch and Jackpot.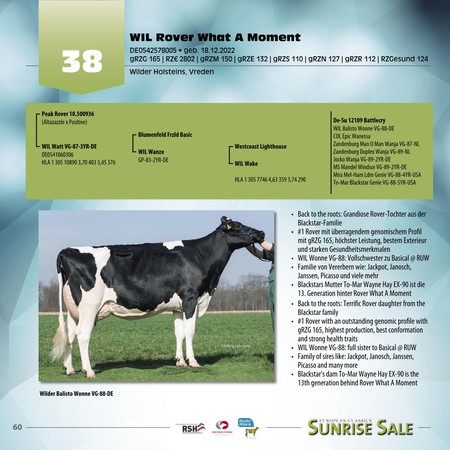 Lot 5 Kingsway Tangerine Dream (Delta-Lambda x EX-91 Doorman x EX-95 Sanchez)
For the real show fans, the Nöhl family offers a granddaughter from the 18 Stars Brood Cow, two-time All Canadian and Grand Champion Quinte Ex. 2013 & 2014: Kingsway Sanchez Arangatang EX-95. With more than ten excellent daughters and a lifetime production of 50,902 kgsM with 4.5% fat and 3.4% protein, the beautiful Sanchez daughter has already built up a true legacy of its own. One of these EX daughters is Tangerine Dream's dam, Kingsway Doorman Tingle with EX-91 and EX-93 MS. In 2019 she won the Res. Grand Championship at the Peterborough Ex. and is therefore, note: the seventh generation in a row with great show success! This sets the bar high for this six-month-old Delta-Lambda offspring backed by 9 generations of VG/EX in a row.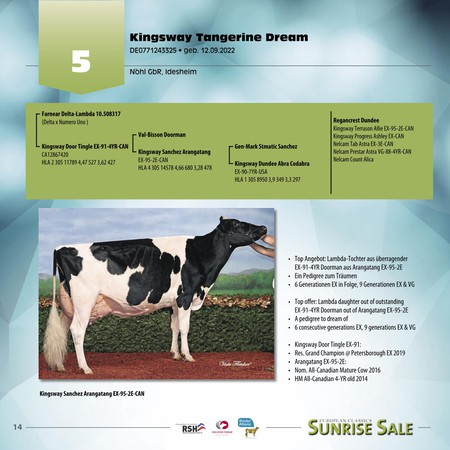 Lot 29 RZN Jordan Venus for Ever (Jordan x EX-91 Colton x EX-95 Furor)
From no less than 9 generations of VG/EX in a row, this great Jersey heifer is offered. Dam Venus has just started her third lactation, in which she is projected at 7,737 kgsM with 5.44% fat and 3.70% protein. In addition to a huge production for an American Jersey line like this, this cow family also knows how to perform in the showring and has grown into one of North America's most desirable Jersey families, namely that of Huronia Centurion Veronica EX-97, the Supreme Champion World Dairy Expo 2006! Veronica her legacy is also very impressive with:             
45 daughters scored in the USA, all with VG or higher

35 daughters classified EX, by 13 different sires

20 daughters with EX-92 or higher
... and at least 20 sons in AI.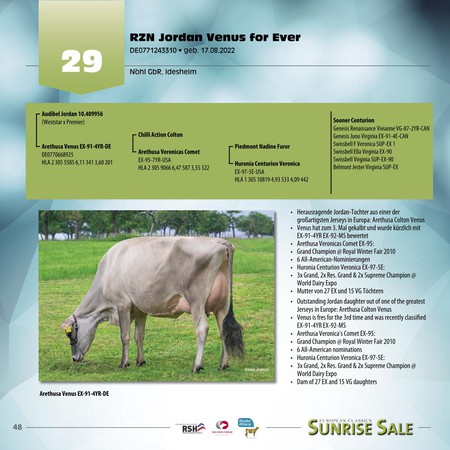 Lot 41 MS Sidekick Lady in Black (Sidekick x EX-92 Goldwyn x EX-92 Sanchez)
In case you missed out on Lot 5, Lot 41 Lady in Black offers you a second chance at show success! This is a Walnutlawn Sidekick daughter of the  Canadian Champs Contest Senior 2-Yr of 2020: Terrylea Gold Bombshell EX-92. In six generations, this Sidekick descends from Rainyridge Tony Beauty EX-94 the Grand Champion WDE 1999. In recent decades this foundation dam has proven that she has the ability to breed great conformation animals. So did great-granddaughter Rainyridge Talent Barbara RDC EX-95, Holstein Canada Cow of the Year 2013 and third dam of  lot 41. One of the many multi-generational excellent lines also includes Rainyridge Mr Burns Eara EX-92, dam of, among others, Rainyridge RZH Planet Elaine VG-88, which is the foundation behind the number 1 R&W progeny proven sire Hoogerhorst DG OH Rubels-Red.