Strike at the GenHotel Selection Sale before 3.00PM today!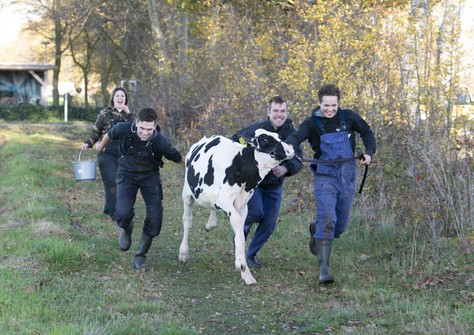 The GenHotel Selection Sale will end today at 3.00 p.m. Although several bids have already been placed and some lot numbers have been sold, the sale still contains various attractive heifers, which means you have a wide choice of Europe's best genetics!
Additional information, photos and any videos can be viewed on the sale page of the relevant lot numbers. In addition, embryo contracts are added to the interesting genomics heifers. Below an overview of the top 5 contracts based on their total value:
LOT + NAME
PEDIGREE
TOTAL VALUE
1. Lot 1 WKF Rider Marja

sold

Ridercup x Copyright
€ 15.650
2. Lot 7 Schuit Kel P Red
Sono P RDC x AltaTop-Red
€ 7.300
3. Lot 13 HWH 3STAR Lolly P
Smaug PP x Copyright
€ 7.200
4. Lot 16 3STAR OH Athona
Rover PK x Doble RDC
€ 6.200
5. Lot 2 3STAR Airbabe

 sold

Flight Red x AltaTop-Red
€ 6.150
Special type heifers:
Lot 9 Ritmaster Roxinne P Red (Mirand PP RDC x EX-90 Apoll P Red)


Red and polled offspring from the legendary Glenridge Citation Roxy EX-97 family. Dam is the Reserve Intermediate R&W Champion of the Dutch Dairy Fair Mariënwaerdt 2021. This line also has bred bulls such as Broker PP, El Toro Red, Coloredo P and Rusty-Red.
Lot 10 BWN Camomilla 2 (Hanans x VG-85 Undenied)

The strongly built Siemers Exc Hanans has been tested in America with super conformation scores of +3.61 PTAT and +2.35 UDC. Dam BWN Camomilla VG-85 produced 7 offspring, including 2 in Italy through the export of embryos. The second calver Our-Favorite Undenied is currently closing up and will freshen for the third time next month. From the Silvermaple Damion Camomile EX-95 family!

 
Top polled heifers:
Lot 7 Schuit Kel P Red (Sono P RDC x AltaTop-Red)

Top polled Sono P RDC daughter from the very popular Wilder Kanu family. Kel P Red scores great for longevity, udder health and conformation: 131 gRZN, 123 gRZS and 137 gRZE! The Wilder 'K' family remains one of Germany's most beloved cow families. With a total score of 157 gRZG, the next bull dam for sure!
Lot 14 3STAR SIE Sotia P Red (Cartoon P Red x Solitair P Red)

High milk production, functional type and good health traits, resulting in total scores of 152 gRZG & 328 gNVI. Sotia P Red is a beautiful heifer from the French Radieuse EX-91 family. Granddam Flash RDC was one of the top sellers during the Top-Genetik Auktion in 2018 and delivered several high, red carrier, polled and / or red offspring!
Lot 8 3STAR Karinda P Red (Cartoon P Red x Percey-Red)

Very fancy and well-built heifer, which goes back, via grandam Kontiki Red VG-85, back to the foundation cow Kanu 111 RDC! With a promising 153 gRZG, 131 EUT, 127 RZE and fantastic health traits, Karinda P Red is your ticket to the red & polled top genetics! Dam Kanucy Red has been flushed several times and is due to calve in May.

 
Lot 13 HWH 3STAR Lolly P (Smaug PP x Copyright)

Interesting THH Smaug PP from the deep, Italian cow family of Bel Iron Irene EX-90. Lolly P tests 155 gRZG, lots of milk, 128 gRZN, 120 gRZS and is A2A2. She also scores 1580 gISET &124 ITP! Fourth dam is a well known bull dam. Her sons WEH Franky and WEH Duster have been purchased by German AI studs.
Lot 12 CEH Halle P (Bedrock-PP x VG-86 Copyright)

The internationally renown Snow-N-Denises Dellia EX-95 / Cookiecutter MOM Halo VG-88 family, from which Halle hails, is a source of countless proven sires - worldwide. Halle P her dam, CEH Copyright Henna VG-86, peaked at 55 kg/day and is projected at 14,500 kg of milk. She scores almost 2900 gTPI and is the no. 1 gTPI Bedrock PP in Europe, also 983 NM$, 153 gRZG and A2A2. Can be flushed pretty soon!
The best of Red and Red carriers:
Lot 11 3STAR TDB Red Flower (Trumpet-Red x Rubels-Red)

Dam 3STAR OH Red Rosy is the full sister of 3STAR OH Ranger-Red, the top red sire worldwide. Granddam is the Red Genomic Giant: Lakeside UPS Red Range-Red VG-86, the Global Red Impact Cow 2021. Lot 11 is the No.2 gTPI and No. 3 gRZG Trumpet in Europe! Very favorable scores for the health traits: +6.2 PL, 2.66 SCS and +1.5 DPR!
Lot 15 De Wijde Blik 3STAR SIE Solera RDC (Rover PK x Solitair P Red)

From one of Jocko Besne's greatest daughters worldwide, Radieuse EX-91, the same family as the proven KNS Boss. Only Peak Rover daughter of Solana P Red, which calved in October and looks fine with an outstanding mammary! Will be classified next month. Solera RDC's profile shows high production, functional type and good health traits, resulting in 154 gRZG, 126 gRZN and 126 RZGesund.
⇒ You can request the genomics sheets of the selling heifers. Please contact us.
AUCTION INFO
To bid and/or directly buy your favorite lot number, you need an account on www.genhotel.nl. If you have not yet been registered, you can do so via this link. Do you already have an account, but have you forgotten your password? Then click here and press the purple button with 'RECOVER PASSWORD'.