GenHotel Selection Sale in full swing!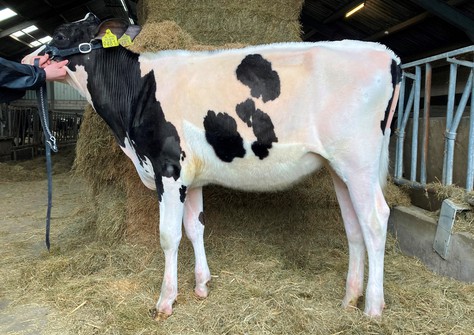 Sales
Batouwe Ronald Apple RDC (lot 17)
The GenHotel Selection Sale, edition number 34, starts tomorrow, Tuesday March 14th at 9.00 am. This online auction offers you 17 very interesting lot numbers. The offer includes heifers bred by GenHotel members and also several exclusive females from the 3STAR Breeding Program. The GenHotel Selection Sale will close on Wednesday March 22th at 3.00PM. 
Pay attention! The sale will take place by Dutch Auction. The listed price is the current price for each lot. The price will go down daily (except Saturday and Sunday) until a buyer decides to take the lot for the price of the day. You can look up the latest price by looking at the website or by contacting one of the contact persons. So keep an eye on the sale page every day, before your favorite is sold!
All the to be sold heifers are online now! Additional information, photos and any videos can be viewed on the sale page of the relevant lot numbers. In addition, embryo contracts are added to the interesting genomics heifers. Below an overview of the top 5 contracts based on their total value:
| LOT+NAME | PEDIGREE | TOTAL VALUE |
| --- | --- | --- |
| 1. Lot 1 WKF Rider Marja | Ridercup x Copyright | € 15.650 |
| 2. Lot 7 Schuit Kel P Red | Sono P RDC x AltaTop-Red | € 7.300 |
| 3. Lot 13 HWH 3STAR Lolly P | Smaug PP x Copyright | € 7.200 |
| 4. Lot 16 3STAR OH Athona | Rover PK x Doble RDC | € 6.200 |
| 5. Lot 2 3STAR Airbabe | Flight Red x AltaTop-Red | € 6.150 |
Although the GenHotel Selection Sale is small in quantity, it's grand in quality. With the top in terms of RZG, which goes up to 162 gRZG for B&W and up to 161 gRZG for R&W. Also for enthusiasts who are interested in breeding on NVI basis, there is lot number 16, 3STAR OH Athona with 360 gNVI and 157 gRZG! Based on the Swiss breeding value gISET, 3STAR Riviera Red (lot 6) is among the top R&W of her age with 1633 gISET (128 EUT) and also 156 gRZG, 2820 gTPI and 198 gISU! With lot numbers 1 (2955 gTPI), lot 4 (2919 gTPI) and lot 12 (polled ánd 2880 gTPI) you will also find a wide range of toppers on an American basis in this sale! Out of a total of 17 lots, there are no less than 7 polled heifers that score up to 157 gRZG! Highlights include lot 13 with 155 gRZG, the red Schuit Kel P Red (lot 7) with 328 gNVI & 157 gRZG and lot 9, the red and polled Mirand P RDC daughter Ritmaster Roxinne P Red. Finally, in addition there is also Batouwe Ronald Apple RDC (lot 17), granddaughter of the famous Kamps-Hollow Durham Altitude RDC EX-95, which offers huge show potential!
You can request the genomics sheets of the selling heifers. Please contact us.