The online Maystyle Auktion from May 24th - 31st!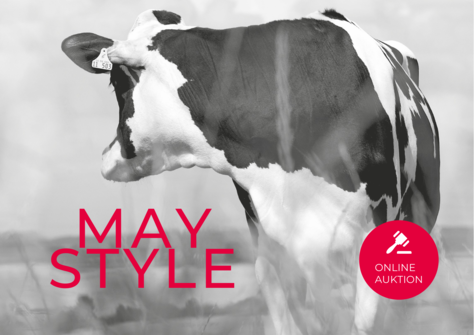 Via FarmersBid.com, the MayStyle Auktion, organized by Qnetics  in association with GenHotel, takes place online. This auction started today at 2.00PM. The final auction in catalogue order is scheduled for Tuesday May 31st from 1.00PM.
Go to the catalogue & the auction website
You can place a bid on 30 lots. The offer includes both milking cows and youngstock of the breeds Fleckvieh, Jersey and Holstein. Stunning (genomics tested) genetics from Germany & the Netherlands is offered at this MayStyle auction!
For example, GenHotel offers both Holstein and Red Holstein heifers from families such as Grietje 80 EX-91, Des-Y-Gen Planet Silk RDC EX-90 and KHW Goldwyn Aiko RDC EX-91. GenHotel member HWH Holsteins sells a polled and red carrier by Gladius and for the Jersey lovers there is also an attractive offer including polled! Just take a look at the stylish Casino daughter RZB Ladylike out of a EX-91 Primero, lot 1! 
Possibility to 'Buy now'!
In addition to the fact that you can get your favorite by placing the highest bid during the final auction on May 31st, this auction also offers the possibility to insure your purchase directly via the 'buy now' button.
If you already have an account at Farmersbid.com, you don't need to register but just log in. Forgot your password? Reset your password here. You will receive an email which allows you to adjust your password. Please check your spam folder!
| | |
| --- | --- |
| | |
| Pen-Col Superhero Mistral VG 89, granddam lots 18 & 25. | Batouwe Ailisha Salva Red VG-85, granddam lot 20. |
| | |
| Ronora Juno Larami EX-94, 4th dam lot 1 | HEL Jurgolin EX-92, 3rd dam lot 5 |
| | |
| Rainyridge Mr Burns Eara RDC EX-92, foundation cow lot 7 | VOG Jennifer VG-85, dam lot 10 |
| | |
| K&L OH Sunny Red GP-83, granddam lot 22. | K&L Poppe Gonda VG-86, granddam lot 26. |