Successful GenHotel Selection Sale!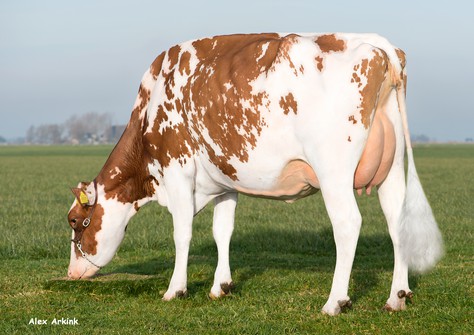 Sales
Batouwe Salsa Aiko Red VG-85, granddam of R&B Aivy-Red
This edition of the GenHotel Selection Sale went well again. There was a lot of interest in the sale heifers from both home and abroad. Shortly after the opening of the auction, the first heifer was sold very quickly. Ultimately, with the more expensive sale lots, it was mainly the Dutch buyers who had the last bid. The average price of the heifers sold is 8,650 euros.
The auction topper this time is called Tirsvad K&L Riveting Magnolia, the number 1 Net Merit and number 2 gTPI Riveting daughter in Europe. Partly due to her high total embryo contract value, Magnolia, from a deep American cow family, has been sold for 30,000 euros. Her half-sister, the polled Tirsvad 3STAR Simon Muscat P, is the second highest sale lot and purchased by Dykster Holsteins. The red-and-white R&B Aivy-Red, the number 1 RZEuro AltaTop daughter in the German system, tracing back to the phenomenal brood cow Kamps-Hollow Durham Altitude RDC EX-95 and sold by Roubos and Batouwe Holsteins, is sold for 11,000 euros.
Sellers congratulations and all buyers good luck with your great purchases!
| Lot |   NamE |   SIRE |   DAM | PrICE (€) |   BUYER |
| --- | --- | --- | --- | --- | --- |
| 2 | Tirsvad K&L Riveting Magnolia | Riveting | Pen-Col Mistral | 30.000 | De Oosterhof & 3STAR Genetics |
| 12 | Tirsvad 3STAR Simon Muscat P | Simon P | Pen-Col Mistral | 14.000 | Dykster Holsteins |
| 1 | R&B Aivy Red | AltaTop-Red | Rhala RE Quickstep Red | 11.000 | 3STAR Genetics |
| 11 | Poppe 3STAR Kanu 1986 Red | AltaC-Red | K&L Poppe Kanua RDC | 8.000 | Bouw Holsteins |
| 4 | K&L PK Alichia P | Builder P | Riethil K&L Goldstar | 6.000 | CRV |