Increasing influence Fienchen family at Aalshorst Holsteins
At Aalshorst Holsteins 17 first calvers got a first classification score, 4 cows got re-scored. The average of this classification round is GP-84.7. No less than 11 cows descend from the Poppe Fienchen family with Poppe Fienchen 580 RDC VG-89 as their matriarch (s. Stol Joc). 
The Fienchen family has become very popular in Europe due to Poppe Fienchen 580 RDC VG-89. This amazing brood cow led to a breakthrough for this pedigree. The first offspring of Fienchen ended up at Aalshorst Holsteins by exchanging embryos with Poppe Holsteins. This resulted in a great deal given the number of offspring the Scholten family nowadays has. Most interesting is Aalshorst Fienchen 12 P Red VG-85, sired by Apoll P Red. She's a polled Fienchen which has over 10 progeny, mostly due to flushes. Six daughters of Fienchen 12 P are classified, Aalshorst Fienchen 27 VG-87 / VG-88 MS (s. Magister) got the highest score. Due to a flush with sire Rubi-Agronaut three heifer calves are born. Those three did amazing with an average of GP-84.7 in the latest classification round. All eleven Fienchens got an great average score of GP-84.3!
From the Aalshorst Grietje family Aalshorst Geertje 261 VG-86 did very well. She's sired by Mega-Watt RDC and halfsister of Aalshorst Rody-Red (s. Riverboy) at CRV. Her maternal sister Aalshorst Geertje 233 Red VG-86 (s. Visstein Peak RDC) is bulldam of a Moutard-Red sun at a Dutch AI.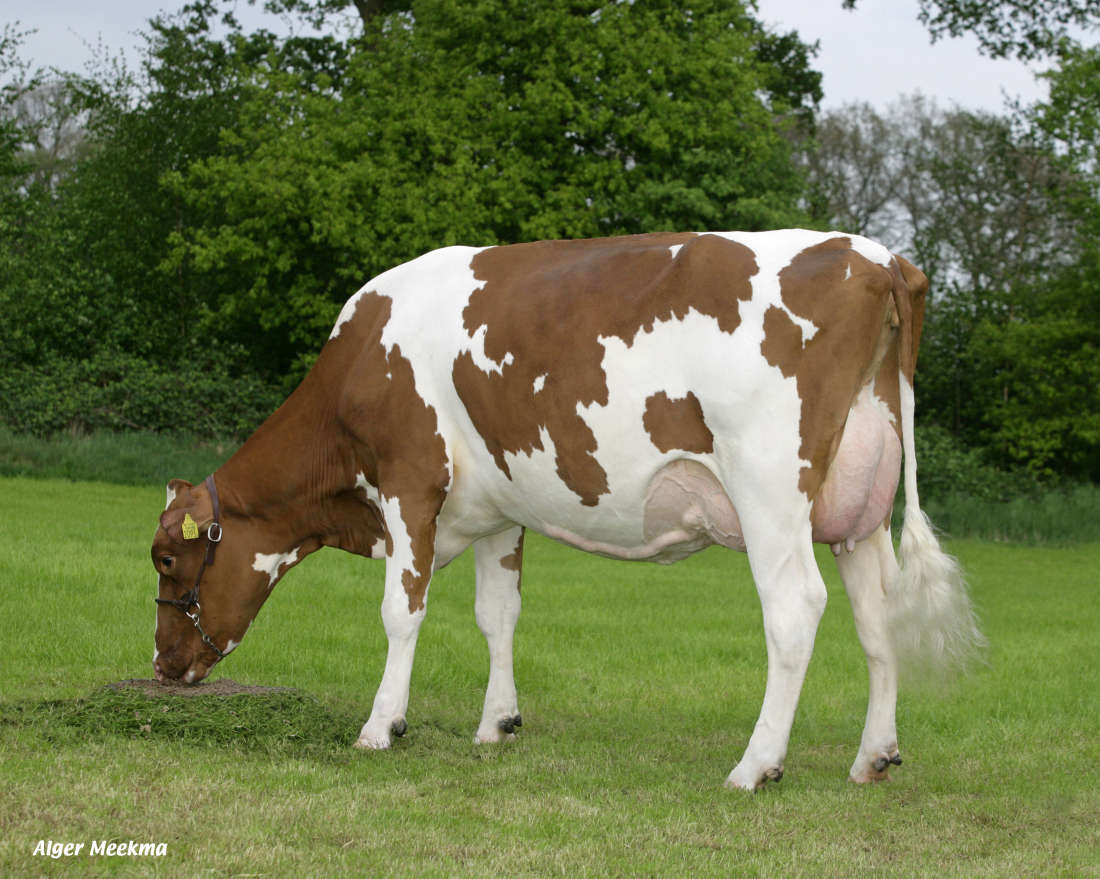 Aalshorst Geertje 75 VG-88 (s. Lichtblick) from the Geertje family
The Scholten family is also very successful with the 3STAR EmbryoProgram. Various results of this program are doing extremely well. This is also confirmed by the scores of this classification. Five first and second calvers which are co-owned by 3STAR Genetics got an average of VG-85.8. One of them is Apoll P daughter Aalshorst K&L Aiko 1 VG-88.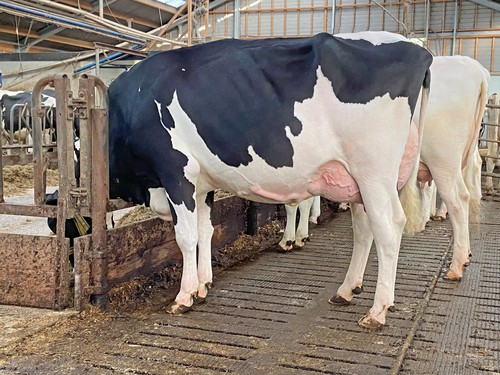 Aalshorst K&L Aiko 1 VG-88
No less than 8 milking cows got a score of VG-86 or higher::
| NAME | SIRE | DAM | LAC | R | DS | MS | FL | TOT |
| --- | --- | --- | --- | --- | --- | --- | --- | --- |
| Aalshorst K&L Aiko 1  | Apoll P Red | Drouner AJDH Aiko RDC | 2 | 89 | 89 | 87 | 87 | 88 |
| Aalshorst K&L Zalia 1 | Barolo | HWH K&L Aik Zalia RDC | 2 | 86 | 86 | 87 | 87 | 87 |
| Aalshorst  Fienchen 27 | Magister | Aalshorst Fienchen 12 P Red | 1 | 88 | 88 | 88 | 86 | 87 |
| Aalshorst K&L Abella 1 | Salvatore RC | K&L HL Abella | 1 | 85 | 85 | 87 | 85 | 86 |
| Aalshorst Geertje 261 | Mega-Watt RDC | Aalshorst Geertje 187 RDC | 1 | 84 | 86 | 87 | 85 | 86 |
| Aalshorst Fienchen 26 | Rubi Agronaut | Aalshorst Fienchen 12 P Red | 1 | 86 | 85 | 87 | 85 | 86 |
| Aalshorst Fienchen 16 | Jetset | Poppe Fienchen 804 | 1 | 87 | 87 | 86 | 84 | 86 |
| Aalshorst K&L Lol 2 | Apoll P Red | Caudumer Lol 337 Red PP | 1 | 85 | 87 | 87 | 85 | 86 |