Homozygous polled & a sky high gNVI!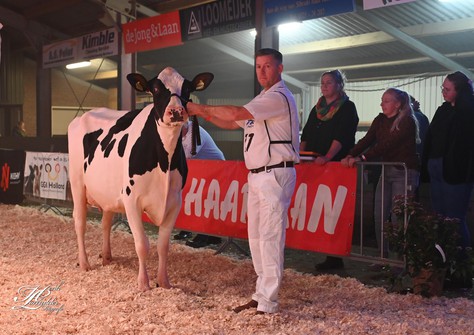 Sales
Maternal sister to granddam: Oelhorst Froukje 705 VG-87 (Salvatore RC x Funny P Red VG-89)
At the upcoming online Highlight Sale on Friday, January 7th at 8.00 PM, Zuchtbetrieb Siepermann and GenHotel will sell a fantastic result from their cooperation. 
It has been some time since an opportunity out of the Froukje family appeared in the Holstein world. They do extremely well in production and longevity. In addition to the great longevity and production of this branch, this family has provided numerous successful AI bulls such as Defago Red, Mars Bodyguard and Giabo. From this B&W cow family, the red SIE 3STAR Frisia Red PP is offered to sell. Extra special is the fact that this Visstein K&L Money P Red daughter is not only red but also 'double P'!
Lot 29 SIE 3STAR Frisia Red PP (Money P Red x Solitair P Red x VG-85 Wisent F):
SIE 3STAR Frisia Red PP (by Money P Red) descends throught her Solitair P Red dam and VG-85 Wisent RF granddam from Oelhorst Funny P Red VG-89 (by Fun P). This 3rd dam of Frisia Red PP is a true 'milktank' and will produce 17,333kg of milk in 305 days in her 3rd lacation. The VG-89 Fun P was flushed several times in order to supply the next generation. The double P'er of Siepermann and GenHotel scores strong on gNVI with 335, and her 153 gRZG will bring some international opportunities. In addition, she transmits high components and a great longevity combined with 126 EUT and 110 MTY.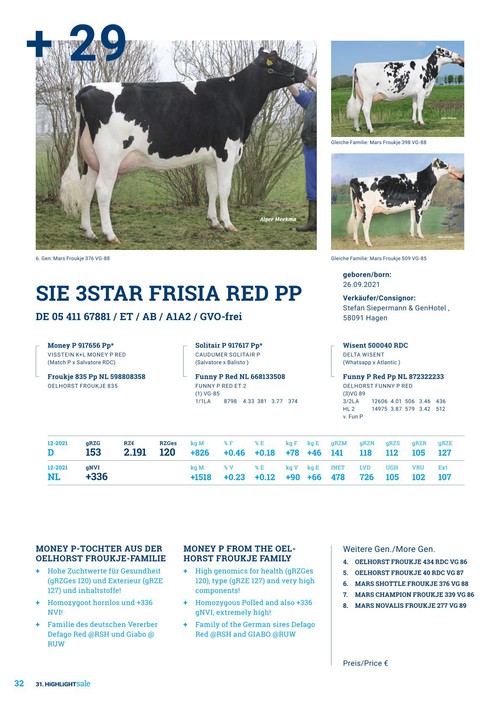 In addition to the milk production, longevity and high total indexes this cow family - which leads back to Mars Novalis Froukje 277 VG-89 - also knows how to breed a functional and well-balanced type. This was also proven by Oelhorst Froukje 705 VG-87 - maternal sister of granddam Funny P Red 2 VG-85 - which recently placed 4th in her category at the Twente After Summer Show.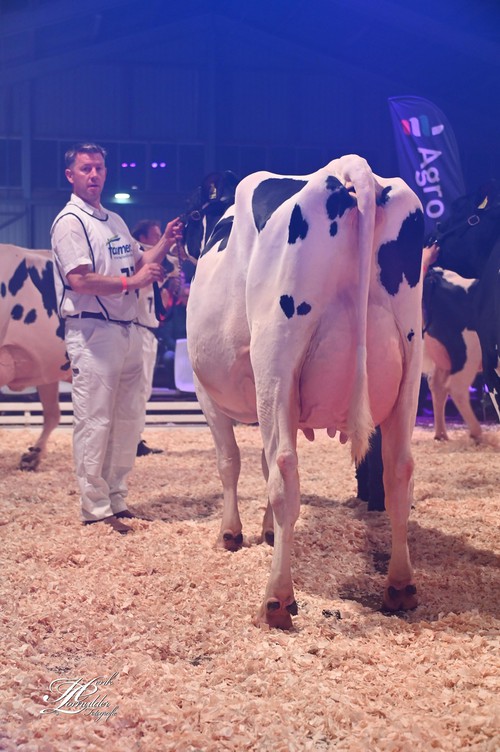 Oelhorst Froukje 705 VG-87 (Salvatore RC x Funny P Red VG-89), 4th place at the Twentse After Summer Show 2021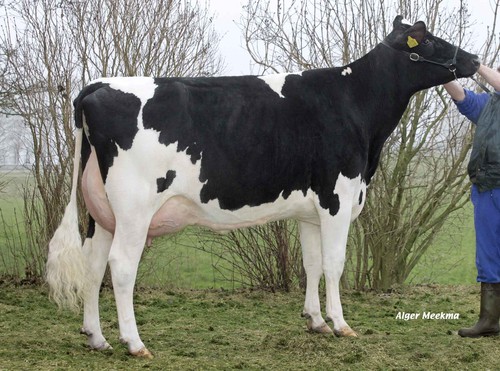 6th Dam: Mars Froukje 376 VG-88 (s. Shottle)