Final day to consign your animals for the VOST Select Sale 10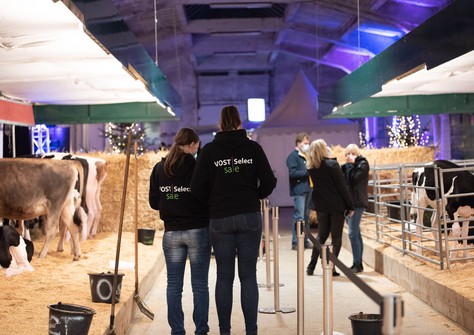 The open auction for top Holstein, Red Holstein, Jersey and Brown Swiss will take place on Friday, November 25th at the Ostfrieslandhalle in Leer, Germany.
On Friday, November 25th 2022, the tenth edition of the VOST Select Sales will take place. As usual, the auction of the sales animals will start from 8.00PM and will also be broadcast via live stream at FarmersBid.com.
To make sure this year's sale will be a big success again, we are looking for your high-quality animals from heifer calves to fancy 2-yr-olds. That is why we would like to ask you to consign your attractive heifers with high gRZG, gNVI, gTPI and / or gPTAT. Of course, (Red)Holstein calves from deep, show cow families are also welcome and the VOST Select Sale even offers the perfect opportunity to sell your beautiful Jersey or Brown Swiss heifers too.
Today is the last day to consign your animals! You can contact Martijn van der Boom or René te Wierik by e-mailing them your registrations!
More information about the auction is available on the Facebook page & Instragram of "VOST Select Sale" and of course on our website!