Awesome Jersey heifer from Huronia Centurion Veronica EX-97!
Sales
RZN Chrome Velvet VG-87, dam to lot 57!
From no less than ten generations of EX/VG, Dynamic Holsteins is offering this one-year-old and fantastic looking River Valley Victorious daughter at the upcoming VOST Select Sale! 
Dynamic Velvet 5 is a daughter of the 2-yr-old RZN Chrome Velvet. Chrome Velvet was purchased as a virgin heifer during the GenHotel Selection Sale 2020 by Dynamic Holsteins and is already classified as a beautiful milking heifer with VG-87 (VG-88 MS)! 
Granddam Arethusa Colton Venus VG-89 is just one of the few daughters of the American Arethusa Veronicas Comet EX-95 - Grand Champion 2010 Eastern States Expo, Senior & Grand Champion Royal Winter Fair 2010 and Grand Champion 2011 New York Spring Show!
Comet is not the only show diva within this pedigree, because the foundation cow of this special cow family is the world famous Huronia Centurion Veronica EX-97. Veronica won several major titles, namely Grand Champion World Dairy Expo 2004, 2005 & 2006 and Supreme Champion World Dairy Expo 2006! She also bred more than 20 EX classified daughters by 13 different bulls, who also won major show titles. In addition, she supplied no less than 20 sons to AI's.
Are you taking this chance for great Jersey show success?
Get lot 57 Dynamic Velvet 5 (Victorious x VG-87 Chrome x VG-89 Colton x EX-95 Furor x EX-97 Centurion) on Friday, November the 25th!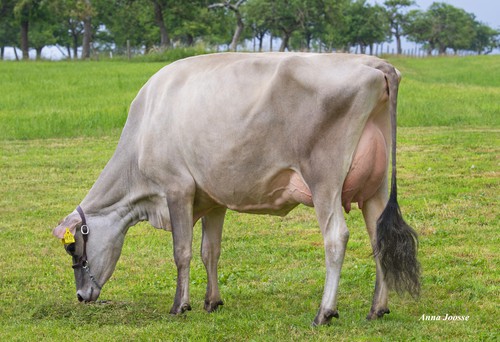 Granddam: Arethusa Colton Venus VG-89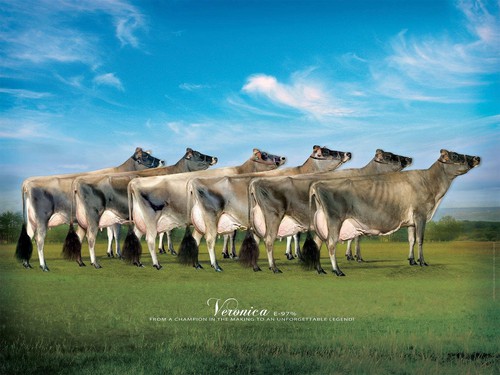 Huronia Centurion Veronica EX-97