VOST Select Sale 9 purchase becomes a beautiful VG-87 milker!
Sales
Salsa P Red VG-87, VG-87 MS
The Visstein K&L Money P Red daughter, purchased by Sudena Holsteins and GenHotel at the VOST Select Sale 9, freshened last summer at the age of 1.11 year, despite being flushed several times as a heifer. After participating in a few dairy shows, getting scored VG-87 and being able to sell a son by Spread P Red to an AI, it was time to capture Salsa P Red on camera!
The beautiful Salsa P Red VG-87 was praised for her fantastic feet & legs, which have been scored VG-88, and she carries a strongly attached udder of VG-87 points. In addition, she also produces a lot of milk, which was already predicted by her genomics profile. Two years ago, it was Salsa's very interesting profile with the additional great pedigree that attracted buyers Mensink and GenHotel. Salsa's dam is a VG-86 Stormy Red daughter and produced multiple, high and polled red-and-white offspring. Through this top breeding Stina VG-86 she goes back to Jenniton M-O-M Savana EX-90, the granddam of the proven sire Leaninghouse Kingston.
During the run-up to the 2021 edition of the VOST Select Sale, embryo contracts were signed by foreign AI stations. Her towering gISET and gRZG meant that, after arriving at the Mensink family, she was flushed and embryos sold to Switzerland. As a result, the investment was quickly earned back. This year, on top of it, there was also interest in one of her sons, which went to an AI.
Do you also want to invest in genetics or special cow families? This Friday evening the VOST Select Sale 11 will take place again! Find more information about the sale offer HERE.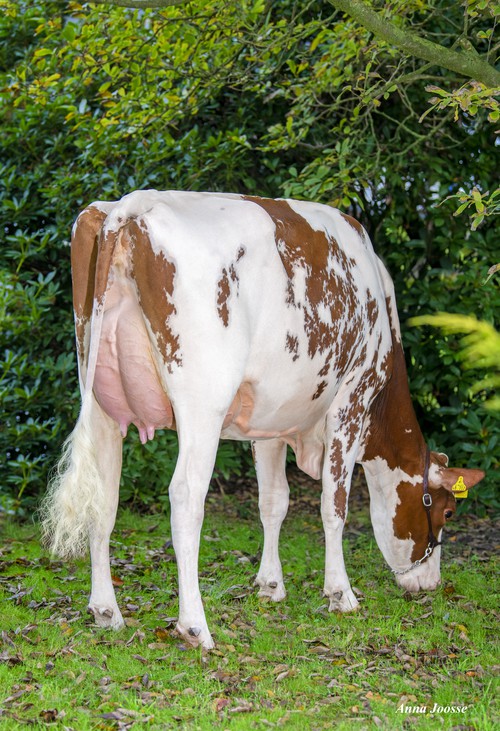 Salsa P Red VG-87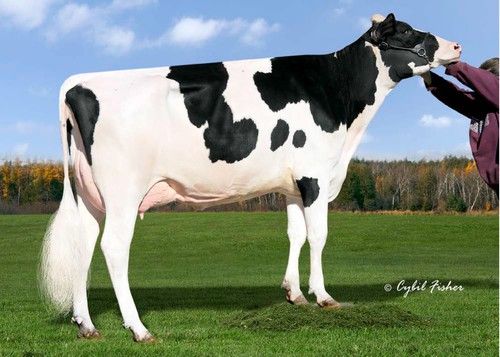 ​5th Dam Jenniton M-O-M Savana EX-90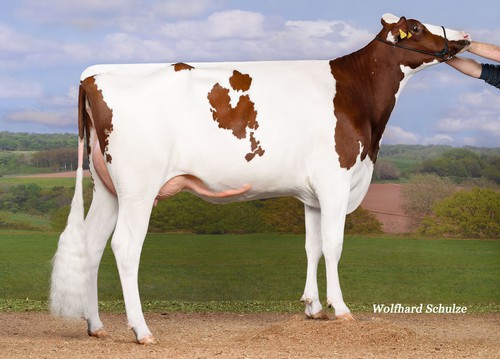 Dam Stina VG-86