The first 3STAR Red Genetics Dealroom has started!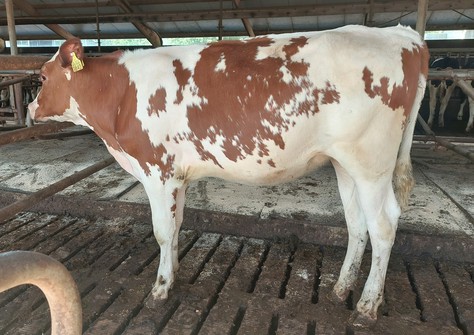 Sales
Lot 7. 3STAR Karinda P Red
Today (July 4th) from 4.00 PM the 3STAR Red Genetics Dealroom will start! Eight red and red carrier heifers from the 3STAR Breeding Program are offered. The dealroom is open until Tuesday July 11th 3.00 PM. Until then, you can place bids and enter into negotiations!
The eight heifer calves, from different ages, come from the most well-known and sought-after proven cow families. From Rainyridge Tony Beauty EX to Des-Y-Gen Planet Silk RDC EX-90 to Maybelline Tual VG-85! Photos have been taken of all seling calves and can be viewed at the relevant lot number on the sale page. All eight calves are housed at the same location.
3. De Oosterhof 3STAR Moon P Red
Flight Red x Solitair P Red x Styx Red
8. 3STAR OH Marja RDC
Rammstein Red x AltaZazzle x Kenobi
This sale is not a classic auction. Even though this auction runs over a longer period of time, the selling heifer is sold immediately as soon as a bid matches the seller's asking price.
3STAR Red Genetics Dealroom gives you the opportunity to acquire top heifers. The dealroom gives you as a buyer the opportunity to negotiate online about the price of the lot in which you are interested, also known as the oldschool 'Price Bargaining'.
How does the 3STAR Red Genetics Dealroom work?
After you've placed your bid, you'll receive an e-mail (this can take a while) with one the following messages: 
1) Your offer has been accepted and you are the buyer; or
2) Your bid does not (yet) meet the seller's asking price.
In this case, you'll receive a counteroffer from the seller of a price that is acceptable. You can accept this counteroffer, but it also gives you the opportunity to continue the negotiation and make a new (counter) offer. The price negotiations will continue until one of the parties accepts the (counter) offer. If there is a price agreement, the buyer will receive a confirmation e-mail. Please note: The seller can negotiate with multiple bidders at the same time!

For questions about the offer or the sale system, please contact us!