Take a look at Tirsvad K&L Pursuit Milano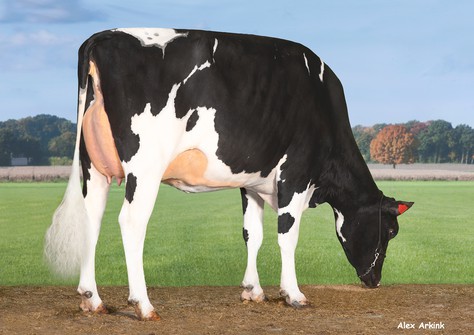 Sales
Pen-Col Superhero Mistral VG-89
Tirsvad K&L Pursuit Milano, a direct Pursuit from Pen-Col Superhero Mistral VG-89 is now fresh in first lactation and looks really good as you can see in the video below. Her dam Mistral VG-89 was purchased as a heifer calf by Tirsvad Holsteins & GenHotel after which she was flushed several times in order to generate offspring for the joint breeding program. With success because no less than 5 sons of the VG-89 Superhero were sold to AI stations.
One of these sons is Tirsvad K&L Mingus owned by Semex, the full brother of Tirsvad K&L Pursuit Milano. This lactating Pursuit is one of Mistral's highest offspring based on TPI, NVI & RZG. She scores 2902 gTPI, 310 gNVI and 150 gRZG! 
In the current GenHotel Selection Sale lot 13 Tirsvad 3STAR Zazzle Monaco will sell with 2950 gTPI and 153 gRZG! As you have already read above, Monaco, a Peak AltaZazzle, has received these high indexes from her maternal line. The cow family behind this great index branch is having a big impact on the Holstein breed, a.o. with the number 1 LPI proven sires in Canada - Westcoast Alcove!
A full brother to Monaco is in stud at Genus/ABS and has fantastic indexes for GTPI and PLI !
Invest in this future bull dam! Buy her now.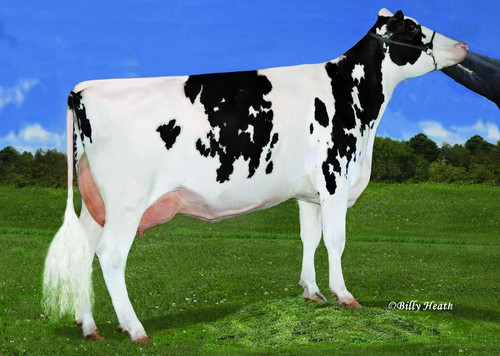 6th Dam : MS Gold-N-Oaks Maybaline VG-88

Brood cow: Gold-N-Oaks Morty Malibu EX-94