Milking Delta-Lambda 2-yr-old from MD-Maple-Dell Durham Cecel family
Sales
KNS Can't Stop VG-85, Delta-Lambda x VG-88 McCutchen
Next Wednesday the Masterrind Exclusive Sale will take place in Verden, Germany. During this auction, GenHotel member KNS Holsteins brings in an awesome lot, namely a fresh calved daughter of the top conformation sire Farnear Delta Lambda. In five generations, she traces back to the American Regancrest Elton Durham daughter MD-Maple-Dell Durham Cecel EX-92!
KNS Can't Stop (by Delta-Lambda), which calved in December 2022, achieves a daily production of more than 34 kgs milk and has recently been classified VG-85. Dam of this milking 2-yr-old, Tramilda KNS Cutchen VG-88, was purchased as an embryo by KNS Holsteins and has already produced some great offspring for this German breeder! Mirabell Sound System grandsons of Cutchen, namely KNS Soundbar and KNS Soundcheck, were even purchased by German AIs.
Can't Stop her granddam, Pencroft-Ammon G Chiffon, has managed to sharpen the great reputation of this deep cow family. This Mr Chassity Gold Chip is known as one of the first excellent Gold Chip's worldwide ending up with a EX-90 score and EX-92 MS.
Invest in this impressive cow family, that has no less than 11 generations of high scored dams and an attractive sire stack, for type: Lot 33 KNS Can't Stop VG-85 x VG-88 McCutchen x EX-90 Gold Chip x EX-92 Mac x VG-87 Titanic x EX-92 Durham.
It is possible to bid online during this auction. For more information, click HERE.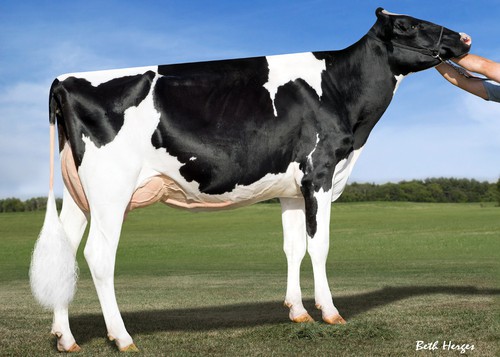 Granddam: Pencroft-Ammon G Chiffon EX-90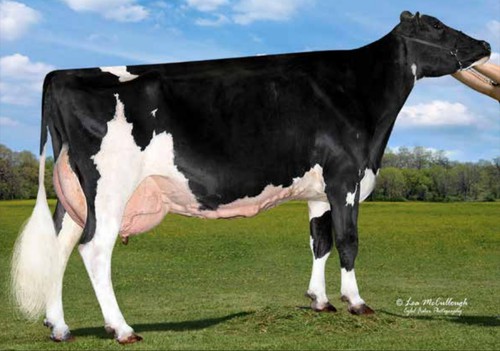 4rd dam: Ammon Farms Mac Classic EX-92