HighlightSale 2023: a great evening full of highlights!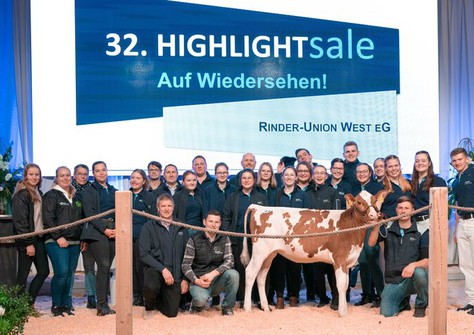 Large numbers of spectators and buyers came to Hamm, Germany last Friday evening to experience the 32nd edition of the HighlightSale of Rinder-Union West eG live. In addition, the FarmersBid livestream made it possible to attract a larger audience online as well.
Danhof Mahomes Number One (lot 4) belongs to the absolute top of Europe with 164 gRZG (2946 RZ€) and 3005 gTPI (1053 NM$). This Progenesis Mahomes comes from the world famous cow family of Wesswood-HC Rudy Missy EX 92 and provided the first highlight of the evening. For the top price of € 31,000, the three-months-old Number One changed hands.
One of the youngest calves at the auction was the 163 gRZG, 2815 gTPI, 370 gNVI and 4623 gPFT scoring RC Caramell (lot 53), a SHA Zivet daughter tracing back to Tirsvad Luke Classic EX 90. The highest bid of € 20,500 came from the Netherlands, this sale lot included embryo contracts worth € 9,900.
Lot 9 SHK Maiblume, out of the full sister of KNS Simon P, delivers high scores for health traits, type and fat + protein. This Mahomes was sold for € 11,500 and will soon travel to the Netherlands, where she will serve as a donor for the breeding program of the Swedish Alsgards Lantbruk & GenHotel.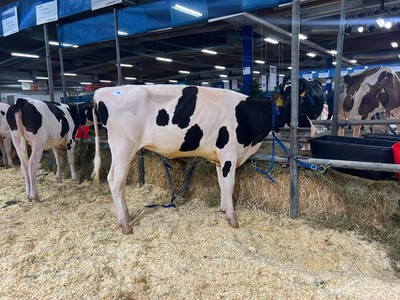 Lot 9 SHK Maiblume
With Lot 21 WAC Rubyrose Red PP (160 gRZG, 350 gNVI, 4009 gPFT, 4412 gICO, 23 NTM, 1616 gISET) breeder Hermann Wacker threw high eyes on the HighlightSale. Not only this heifer calf is homozygous polled, but Rubyrose Red PP also combines high breeding values in different systems. This special combination was already rewarded before the sale startet with embryo contracts worth a total of € 40,350, which made Rubyrose very interesting for potential buyers. It was therefore not surprising that an exciting bidding duel followed with mainly online bids from Germany and the Netherlands. The winning bid of € 46,000 came from a buyer in Germany, which made lot 21 the top seller of the HighlightSale!
The offer of milking 2-yr-olds this year was very impressive, both in quality and quantity. Particularly popular were the Red Holsteins. A top price of € 9,800 was paid for RUW Serena P Red VG-86, a Tirsvad Match P RDC daughter from Koepon Genetics' Koepon Sanne 8 Red VG-88. Her value increased due to her fantastic type, heterozygous polled and the fact that she is a bull dam too. On average, the milking heifers were sold for € 4,800!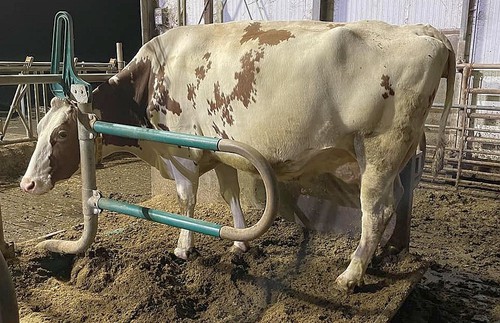 Dam Koepon Sanne 8 Red VG-88, now dried off (Source: Koepon)
| CATEGORy | average (€) |
| --- | --- |
| Milking 2-yr-olds |   4,800 |
| Genomic heifers |   6,992 |
| Genomic calves | 12,650 |
| Showtype |   4,145 |
| Total |   7,530 |