Hedra Holsteins' 2-yr-olds score over VG-85 in average!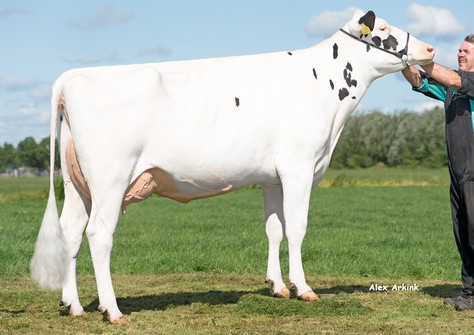 Sales
Hedra Remarlinda 691 VG-87 (s. Regard), dam of the VG-87 Trust
The classification of 15 two-year-olds at Hedra Holsteins went very well and the average score got to an amazing VG 85.2. 
Hedra Massia 1127 (v. Delta Assist), out of the Delta Jasmijn VG-87 line, scored VG-88. Besides her fancy type, Vernooij can also enjoy her performance in the milking parlor, because Massia 1127 VG-88 has a projected 305-day production of 10,190 kgsM 4.11% fat and 3.33% protein. 
From Vernooij's favorite cow family, Lowlands Trust daughter Hedra Remarlinda 1124 received VG-87 with a stunning VG-88 Mammary. Her dam is the snow-white Hedra Remarlinda 691 VG-87 (s. Regard) - the connection to Delta Ria VG-88, the full sister of sire Delta Saxobeat.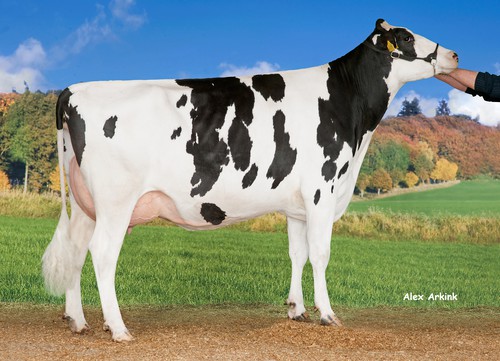 Delta Ria VG-88 (s. Epic)
A daughter out of Delta Nayat VG-87 (by Delta Frontline) received 86 points. She goes back to the legend Neblina VG-87 - from which many bulls have already been bred. Such as Tirsvad Nautic, the full brother of Nayat VG-87.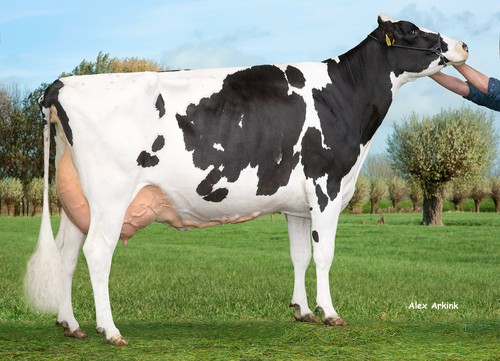 Delta Nayat VG-87 (s. Atlantic), dam of Hedra Neblina 1183 VG-86
This classification round also resulted in no less than three cows awarded as 1 Star Brood Cow. One of these cows is the 9-yr-old Cookiecutter MOM Hunter daughter Hedra D. Marie 7. She earned this star by a classification score of VG-87 and a lifetime production of 93,284 kgs of milk with 3.88% fat 3.46% protein. At Hedra Holsteins, three full sisters are milking, with an average score of VG-87.3.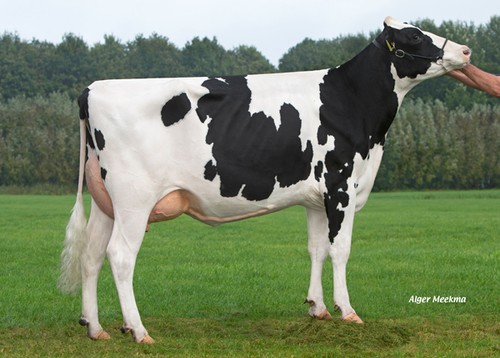 Full sister: Hedra D. Marie 8 VG-88 (s. Hunter)
| | | | | | | | | | |
| --- | --- | --- | --- | --- | --- | --- | --- | --- | --- |
| Name | Sire | Dam | Col | Lact | FR | DS | MS | FL | TOT |
| Hedra Massia 1127 | Assist | Massia 808 GP-83 | B | 1 | 87 | 87 | 88 | 88 | 88 |
| Remarlinda 1124 | Trust | Remarlinda 691 VG-87 | B | 1 | 86 | 83 | 88 | 87 | 87 |
| Neblina 1183 | Frontline | Nayat  VG-87 | B | 1 | 87 | 88 | 85 | 87 | 86 |
| Bianca 1184 | Success | Briska VG-85 | B | 1 | 86 | 83 | 86 | 86 | 86 |
| Aitske | Jacuzzi-Red | Alika GP-84 | B | 1 | 87 | 85 | 87 | 85 | 86 |
| Mariena 548 | Ranger | Mariena 520 GP-83 | B | 1 | 82 | 83 | 86 | 89 | 86 |
| Janke 1121 | Anreli-Red | Janke 702 GP-83 | B | 1 | 86 | 84 | 85 | 85 | 85 |
| Anne 1195 | Empire | Alika GP-84 | B | 1 | 85 | 84 | 86 | 85 | 85 |
| Madee | Trust | Milka | B | 1 | 83 | 84 | 85 | 86 | 85 |
| Jeltje 97 | Ranger | Jeltje 93 GP-82 | B | 1 | 83 | 84 | 84 | 87 | 85 |