First pictures of sale heifers Koepon Summer Sale online now!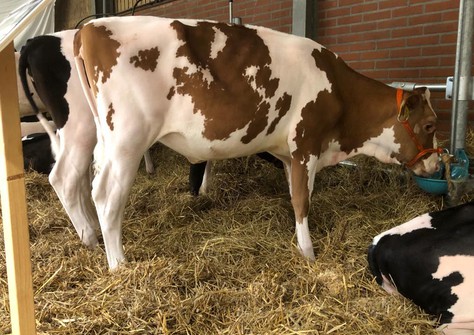 Sales
Koepon Twilight Range 184 Red, lot 12
The pre-bidding of the Koepon Summer Sale has started and the final preparations for the Slim Boeren Event tomorrow are in full swing! The sale heifers look great and the first photos of these lot numbers can already be viewed on the sale page of Koepon Summer Sale 2023.
As of this morning, June 28th, 9:00 AM, the online sale on FarmersBid.com is open to place prior bids. Tomorrow, June 29th from 10:00 AM to 16:30 PM you have the opportunity to come and check out the lots during Koepon's Open Barn day. Can't you be there? The first pictures of the calves are already online and can be viewed HERE!
Friday afternoon from 2.00 PM  the online final sale will take place, where the 21 heifer calves will be auctioned in catalogue order. Do you want to take a shot and place bids? Log in or register on FarmersBid.com.
If you already have an account on FarmersBid.com, you can - when you are logged in - bid with your account. Has your account not yet been activated or have you forgotten your password? Then you can reactivate the account or request your password HERE under 'I forgot my password'.
CLICK HERE FOR THE SALE UPDATE
CLICK HERE FOR THE GENOMICS OVERVIEW
Schedule:
♦ Wednesday June 28th at 9.00 AM: Start Pre-bidding
♦ Thursday June 29th 10.00 AM - 4.30 PM: Open Barn (Lely Slim Boeren Event at Koepon) and possibility to check out the selling heifers
Address: Koepon Genetics, Torensmaweg 2, 9892 TD Feerwerd, the Netherlands
Parking:  Entrance through Antumerweg, Garnwerd
♦ Friday June 30th at 2.00 PM: Start of the final sale
Contact details: