Complete transmitting Mahomes from the Morty Malibu EX-94 family
Sales
Granddam Pen-Col Superhero Mistral VG-89
The upcoming VOST Select Sale offers the chance to buy this very complete Progenesis Mahomes heifer. On Friday you can bid on a descendant of none other than Gold-N-Oaks Morty Malibu EX-94! A cow family that has been making its name in the top index breeding in Europe the past view years!
Progenesis Mahomes daughter Linhorst STAR Madeleine (A2A2) has been tested in several countries which successful led to several high results. In addition to the beautiful 2886 gTPI and 932 NM$, she impresses with her 207 gISU and 1643 gISET. Madeleine complements these high results with a great 159 gRZG, high fat precentage (+0.37% F), 124 gRZR and 129 gRZGes!
Madeleine will sell as lot 41 and is a maternal sister of lot 35. Their dam, Tirsvad K&L Riveting Magnolia, lives up to all expectations and has already supplied TEN sons to different AI's. Including even three full brothers of this Magnia RDC! Pen-Col Superhero Mistral VG-89, her granddam, has also delivered several sons to AI's, like Tirsvad 3STAR Simon Mumbai P and Tirsvad K&L Mingus.
This fantastic and strong breeding cow family even delivered the current number 1 LPI daughterproven bull in Canada: Westcoast Alcove. Although the dam of Madeleine and Magnia RDC is due in January, some top-looking maternal sisters of Magnolia have already been photographed.
Breed your own upcoming top genomic sensation with lot 41 Linhorst 3STAR Madeleine!
Don't miss her on Friday 25 November during the VOST Select Sale.
- GO TO THE VIDEO -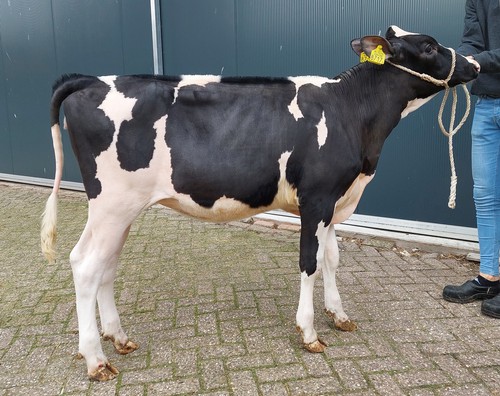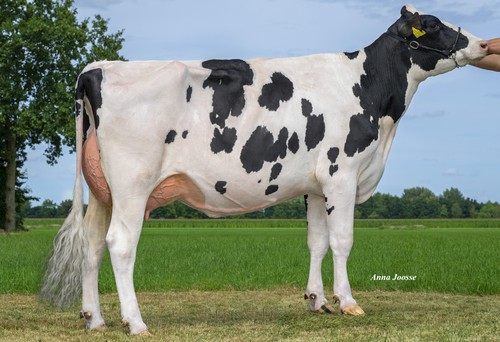 Tirsvad 3STAR Simon Muscat P VG-86 (Simon P x Mistral VG-89)

11th Dam: Gold-N-Oaks Duster Cindy VG-88