Breed your offspring from the one-and-only KNS Dorfgirl EX-93!
Sales
KNS Dorfgirl EX-93 (s. Integrity)
The well-known 'D' cow family of KNS Holsteins has been for a long time a real concept in Germany. This deep cow family has as matriarch the Robthom Integrity daughter KNS Dorfgirl EX-93. Six generations later her descendant KNS Dahlia RDC (s. Schreur Apoll P Red), carrier of the red factor, provides one of the first Red Holsteins from this branch of the D-family: KNS Daddy Cool-Red.  
KNS Daddy Cool-Red is a fresh first calver Westcoast Styx Red daughter with 150 RZG / 124 EUT. Heifer flushes with Gywer RDC and Spark-Red made it to 14 female descandants. One of these offspring was sold at the GenHotel Selection Sale to the Netherlands and is owned now by the Dollen family (Exloër Holsteins). With this Spark-Red daughter, KNS Daytime Red, Dollen successfully expanded their herd with Red Holstein. KNS Daytime Red scores sublimely on both RZG and NVI basis. In addition to 155 RZG, she scores fantastically high for EUT (128), RZN (127), RZS (124) and her total score for conformation is worth keeping an eye on!
Would you like to own offspring from a deep, successful show cow family that is also strong in breeding great AK-sires (KNS Barabo, KNS Cicero, Corona Whizzkid and KNS Barolo)? Then we currently have a fantastic offer of embryo combinations from the recently photographed KNS Daytime Red:
For more information, please contact GenHotel.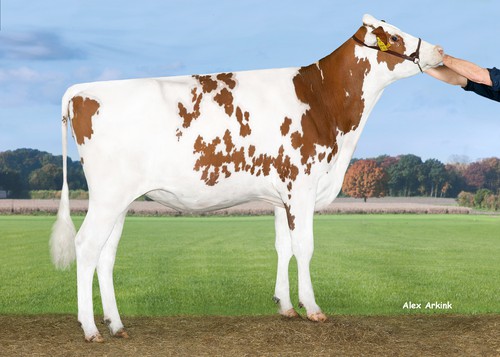 KNS Daytime Red (s. Spark-Red)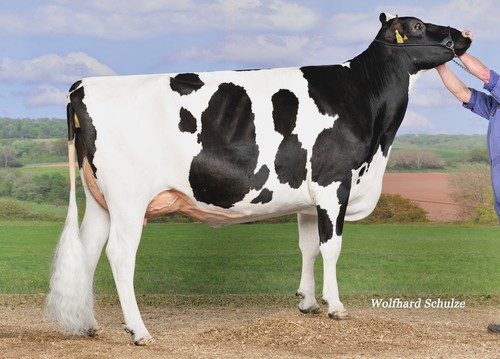 ​KNS Dalista VG-86 (s. Balisto), great-granddam of KNS Daytime Red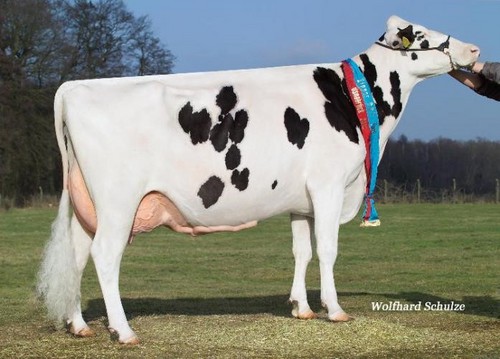 KNS Dorflady EX-92 (s. Ramos) daughter of KNS Dorfgirl EX-93,
Intermediate Champion at the Osnabrücker Schwarzbunt-Tage 2012