An impressive duo from the family of Globed P Red & Bambam P!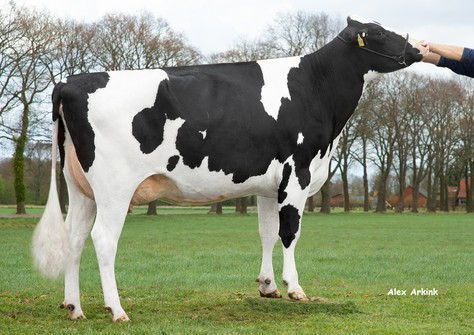 Sales
Dam & granddam to lots 28A & 28B: Basic PP RDC
During the upcoming VOST Select Sale 11, not only the high scoring, polled Skyliner Red daughter HWH 3STAR Babsky P Red will be sold, but also her just freshened dam 3STAR HWH Babsy P RDC!
It's not often that you have the chance to kill two birds with one stone, but next Friday, November the 24th, the opportunity is there. Selling as lot 28A will be HWH 3STAR Babsky P Red, an early Skyliner Red daughter with 152 gRZG (1874 M & 126 gRZE), 1542 gISET & 4066 gPFT. Granddam Basic PP RDC (by Hotspot P) is a multiple bull dam as she bred the top gRZG Red & White bull 3STAR HWH Globed P Red @Qnetics and 3STAR HWH Bambam P @Xenetica Fontao. In addition, this second lactation bull dam, which will calve again at the end of this year, is the sister of the proven bull Sam P Red @Masterrind. Numerous daughters and also granddaughters of Basic have been contracted for embryos!
This line goes back to Misty Springs MB Brighter-Red VG-87, the former No. 3 LPI Red Holstein milker in Canada. This aroused the international interest of sire analysts, so she was contracted for embryos. This resulted in the well- known daughter proven Swissbec Brekem RDC and his German maternal brother Caro P Red.
In addition to this beautiful Skyliner (lot 28A), her fresh dam is offered as lot 28B! Dam 3STAR HWH Babsy P RDC has had two milk recordings so far and is producing over 40 kgM/day. She is a Global Red out of the before mentioned Basic PP RDC, which makes her a full sister of the top Red & White, polled genomics sire 3STAR HWH Globed P Red, who is also very high in Switzerland! Babsy P RDC has been tested in Germany and shows a flawless profile! Her numerous-flushed half-sister Betsy P by  Best Benz has just been classified with GP-84 and VG-85 Mammary. Betsy GP-84 is the full sister of sire 3STAR HWH Bambam P in Spain. 
Lot 28A HWH 3STAR Babsky P Red (Skyliner Red x Global Red x GP83 Hotspot P)
Lot 28B 3STAR HWH Babsy P RDC (Global Red x GP83 Hotspot P x VG87 Hologram P)
Go to the sale page and check out the catalogue!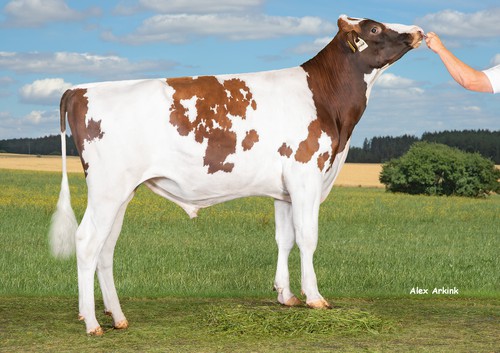 Volle broer van lot 28B, 3STAR HWH Globed P Red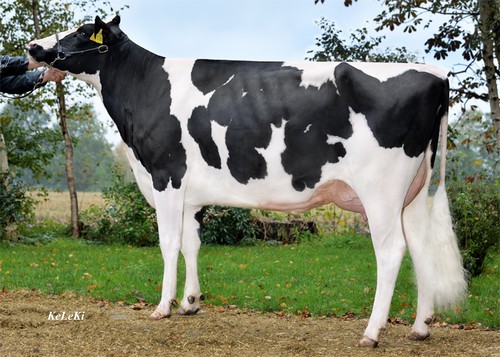 ​2nd/3rd dam Brigitta PP RDC VG-87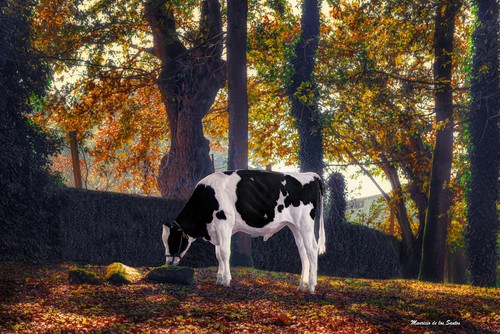 3STAR HWH Bambam P (Best Benz x Basic PP RDC)