Aika Red tops of the sale with 161 gRZG!
Sales
Batouwe Ailisha Salva Red VG-85, granddam lot 28
The absolute Red Holstein top of the VOST Select Sale will be sold on Friday evening at 8.00 PM! It is a top transmitting 3STAR Ranger-Red daughter from the KHW Goldwyn Aiko EX-91 family of which her transmitting profile is from outstanding quality.
The Oosterhof 3STAR Aika Red is a very beautiful, young R&W heifer calf which not only visually owns great looks, but also her genomics profile shows a great 135 gRZE (Germany) and 132 ITP (Switzerland). The Ranger-Red x Mark RDC x Batouwe Ailisha Salva Red VG-85 is with her total score of 161 gRZG, 2542 gRZ€ and 2147M the highest red heifer of this sale! In addition, this Goldwyn Aiko EX-91 offspring also tests high on a gNVI basis with 347 gNVI and 111 Total Score (114 MS!). Furthermore, Aika Red also scores 1641 gISET, 190 gISU and 2776 gTPI.
Granddam of Aika Red - Ailisha Salva Red - is a real genomic powerhouse, making her a very interesting donor already as a heifer. Some sons of the VG-85 Salvatore left to AI studs and her (milking) daughters look very promising (see pictures below)!
Lot 28 De Oosterhof 3STAR Aika Red is your road to international R&W success!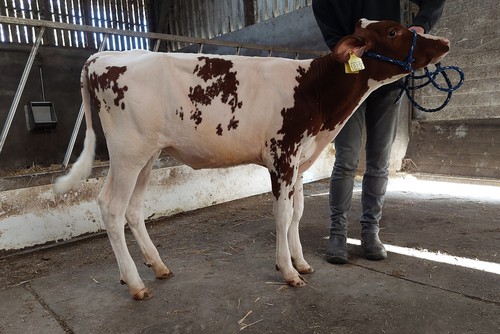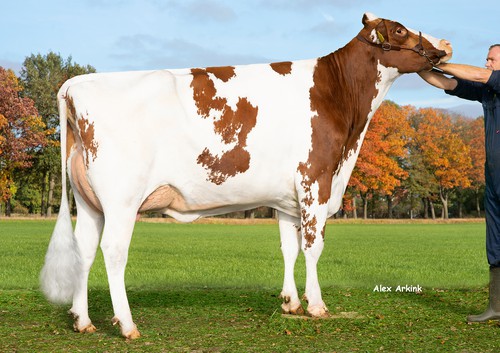 Fresh pictured 3STAR OH Alexia Red (Rubels-Red x Batouwe Ailisha Salva Red VG-85)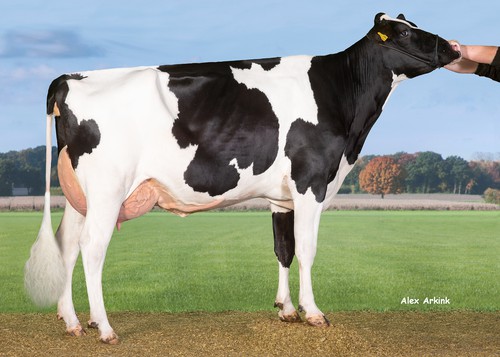 Red Hot Alisha 89 RDC VG-85 (Mr Salvatore x NRP Alisha RDC VG-88)