Van het Zomerbloemhof sells at Agro Expo Dairy Sale
Sales
Kaylee v/h Zomerbloemhof VG-88 (s. Rubicon)
Upcoming weekend will Agro Expo Flanders occur. During this expo will different events take place, among the Agro Expo Dairy Sale. At this elite sale will 20 lotnumbers going under the hammer! 
One of the suppliers is Dries Lahousse from the Van het Zomerbloemhof dairyfarm. He will sell three lotnumbers which including different embryo packages of well-known cowfamilies: 
Lot 8. 2 FEMBRYO'S: Mirand PP x Nuria ET v/h Zomerbloemhof
Magictouch daughter Nuria ET v/h Zomerbloemhof is family of the famous cow Rabur Outside Pandora EX-91 (v. Outside). This big conformation family with American roots breds fantastic, this appears from the fact her maternalline comes with 9 generations of VG and EX. Also, don't forget about the great production they manage to produce. Nuria is flushed with sexed Mirand PP RC. This is a very complete Zipit-P sun with +2419 gTPI, +3.24 UDC and +3.74 PTAT. With this pefect mating it seems that this offspring can become your next showstopper!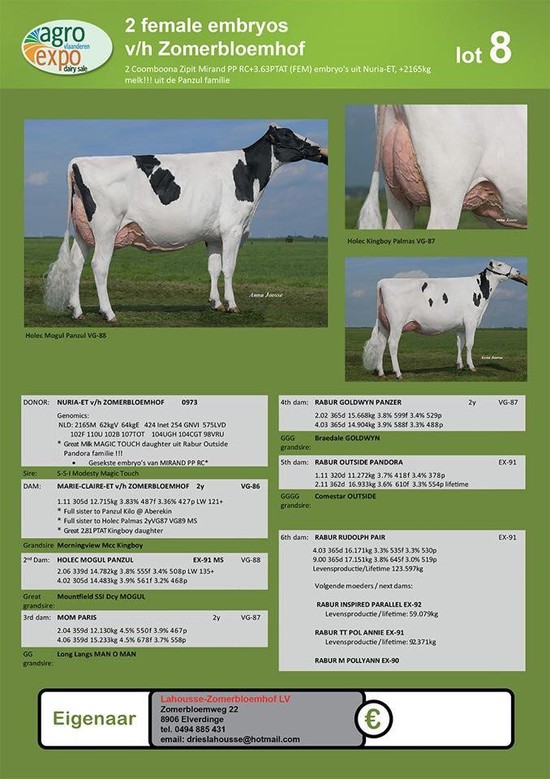 Lot 11: 3 FEMBRYO'S Twitch x Nicola-ET v/h Zomerbloemhof
With this mating seems a great future for this offspring guaranteed! These embryo's are from sexed Helix Twitch x Nicola-ET. Twich is a nice Helix sun with +2897 gTPI / 771 gPLI / 316 gNVI and also donor Nicola-ET has a very fine profile with 2428 gTPI and 341 gNVI! Nicola is decended from the EX-91 American Rilara Mars Las Ravena (s. Elevation Tony). Nicola's dam is the amazing S-S-I Bookem Modesto 7269 VG-87 (s. Bookem). She's dam and granddam of several sires, such as: Modesto, Jedi, Flagship and Jett. This pedigree includes 9 generations of VG and EX! These three embryo's are made of sexed semen!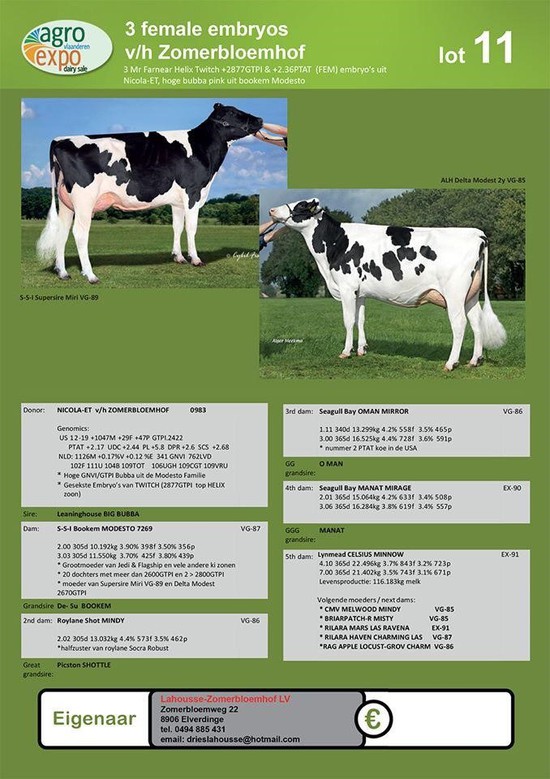 Lot 13: 2 FEMBRYO'S Tropic x Nubba v/h Zomerbloemhof
This mating makes a perfect combination of showtype and genomics clear. Nubba is flushed with sexed Tropic, what makes this sire great is his profile of +2794 gTPI and 689 gPLI in the UK. Nubba (s. Bubba) shows also a nice genomics profile with +2650 gTPI and +358 gNVI. Her Rubicon dam, Kaylee v/h Zomerbloemhof got classified with VG-88 and a maximum score of 89 for MS as a 2 year old. They belong to the Scientific Debutante Rae EX-92 (s. Durham) and C Glenridge Citation Roxy EX-97 (s. Citation) family!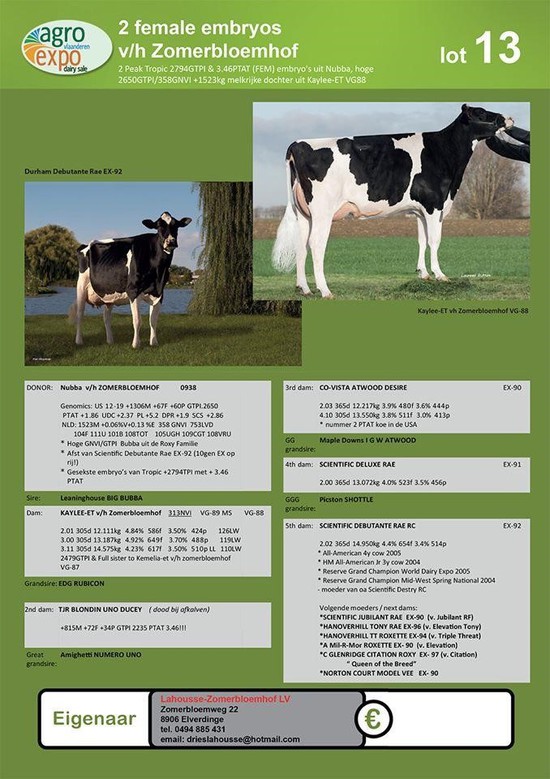 Do you want to know more about these beautiful lotnumbers? Download the online catalogue here.
Come visit the Agro Expo Flanders: Diksmuidsesteenweg 400, 8800 Roeselare, Belgium
​The sale starts at 20.00h C.E.T., you can visit and watch the lotnumbers from 18.00h.