Niermanns input at the OGH Top Genetik Auktion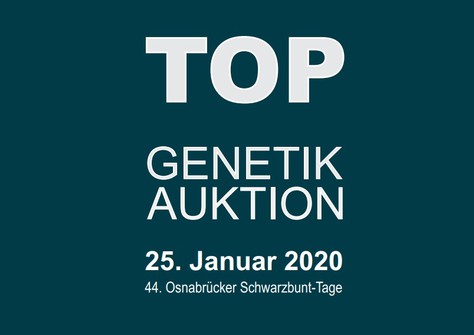 This Friday and Saturday will the Internationale Osnabrücker Schwarzbunt-Tage 2020 in Germany occur. Part of this event is a sale with top genetics, named the 'Top Genetik Auktion'. For this sale are 25 lotnumbers signed in, three of them are from the Niermann family, otherwise known as KNS Holsteins. 
Two of these lotnumbers which Niermann sells are from the American, well-known family of De-Su 7012 EX-92 (s.Shottle)! These two young heifers are halfsisters. 
12. KNS GIANNA PP [ Hotspot P x Mission P] Enclosed contracts with a total value of €10.000
This polled Hotspot P with 151 gRZG, scores also an amazing 132 for the mammarysystem, high componentsand great functional as well as healthtrats! Gianna PP is offspring from the awesome De-Su 7012 EX-92 (s. Shottle). Gianna PP's 6th dam, De-Su BW Marshal Georgia EX-90 (s. BW Marshall) can name herself dam of sire De-Su Oman Goli.
23. KNS GAMBIA P [Solitair P x Mission P] Embryocontracts with a value of €3.400
Heterozygous polled, red and maternal sister of lotnumber 12, with a stunning gRZG 160! With such a high gRZG she belongs to the highest Solitair P daughters based on gRZG! Dam of KNS Gianna PP and KNS Gambia P, KNS Glasperlenspiel is the maternal sister of OHG sire KNS Gypsy (s. Gymnast). KNS Glasperlenspiel scored, like her daughter pretty high on German basis with 151 gRZG and 132 for mammary system. She will due in February.
14. KNS DORO [Gywer RDC x Styx Red] Total value of the embryocontracts is €8.400
This amazing red Gywer RDC daughter with 163 gRZG is! Her faultless genomic profile shows that she's worth it!; 2745kgM, 139 gRZN, 121 gRZGesund & 123 FL! She from a fabulous showfamily bred by Niermann, namelyKNS Dorfgirl EX-93 (s. Integrity). 
 
KNS Dorfgirl EX-93 (s. Integrity) matriarch of this special family
Download the online catalogue!
De Top Genetik Auktion starts Saturday, January 25th at 14.15h C.E.T.
​Schlachthofstraße 48, 49074 Osnabrück, Germany