Sietskeshoeve 3STAR Gaby's special story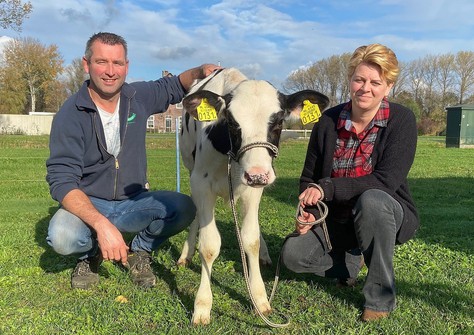 The Ottevanger family, with their dairy farm 'De Sietskeshoeve', has been an important recipient farm for 3STAR Genetics for several years, but they also know how to invest from their own initiative. From the 3STAR Embryo Program Ottevanger bought embryos and recently, as a result of this purchase, a special calf was born.
The success story began with the purchase of embryos from K&L Poppe Gonda VG-86/ VG-88 MS. The combination in question was made with semen from Gigabyte. At that time, it was a very small investment. Extra special was the birth of a very beautiful heifer calf: Sietskeshoeve 3STAR Gaby. 
Gaby was soon after birth genomics tested and what turned out to be? Sietskeshoeve 3STAR Gaby scores a tremendous 167 RZG and 377 NVI! With this, she manages to blow everyone away. This extremely high NVI puts her in second place in the B&W NVI rankings and also with her high 167 RZG she belongs to the absolute top. With this, Gaby follows in the footsteps of her Rubi Agronaut dam; Gonda VG-86. She also managed to reach the top lists as a young heifer with her high indexes. 
Gaby (s. Gigabyte) is a descendant of the Genua/Gietje family. A cow family that has delivered several famous bulls, such as: Emil 2, DT Improver, Tucano, Homerun and Jorrik. In addition, current bulls like Cyrano and My Dream P RDC are also members of this family.

​Sietskeshoeve 3STAR Gaby (s. Gigabyte) with Corinne & Ad Ottevanger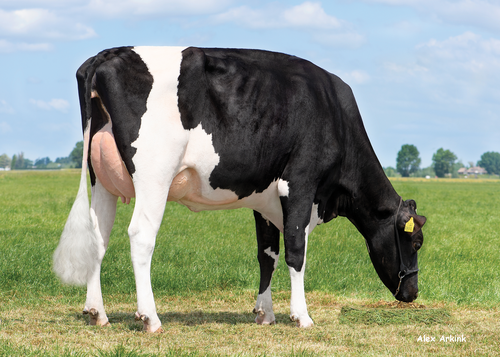 K&L Poppe Gonda VG-86/ VG-88 MS (s. Rubi Agronaut) dam of Gaby