Glen Drummond Splendor successful at Schreur Holsteins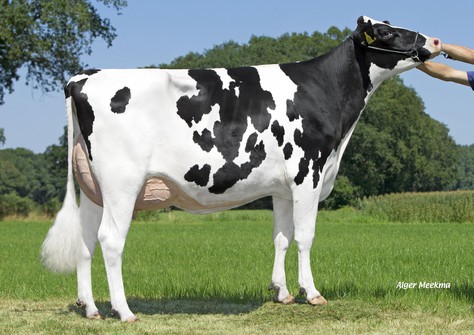 General
Serena 13 PP RDC (s. Apo PP Red) VG-87/VG-88 UI
The Reurslag family (Schreur Holsteins) has a strong passion for breeding. From this passion they expand their herd with interesting Dutch and foreign cow families. A few years ago, they  purchased Seagull-Bay Silver embryos from the homozygous polled Earn So PP RDC (s. Earnhardt P) to get the more offspring from the Glen Drummond Splendor family in the 'Schreur herd'.
From this investment, the heterozygous polled daughters Schreur Serena 6 P and Scheur Serena 7 P were born. Especially Serena 7 P, now in second lactation, was flushed multiple times with red and polled bulls such as Argus P Red, Solitary P Red and Apo Red PP. From the mating with Apo Red PP an important daughter was born: Schreur Serena 13 PP RDC, homozygous and red factor! Both dam and daughter are recently successfully classified. Serena 7 (s. Silver) scored VG-85 and her daughter Serena 13 PP RDC received, in her first lactation, a magnificent score of VG-87 with VG-88 mammary.

Schreur Serena 7 P VG-85 (s. Silver)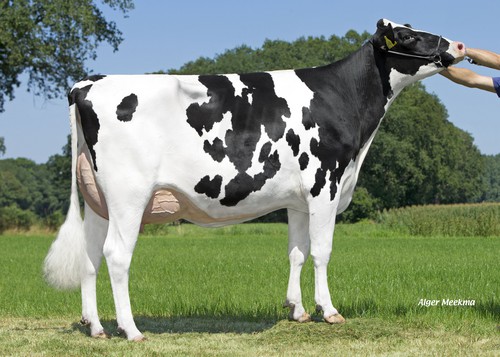 Serena 13 PP RDC VG-87/VG-88 UI (s. Apo PP Red)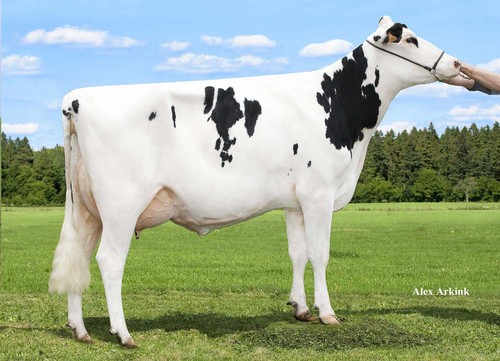 Dkr Silcence Secret RC VG-85, overgroot moeder van Serena 7 P VG-85
Serena 13 PP RDC VG-87 arouses a lot of interest with her qualities. For example, she has recently been flushed with semen from the top bull Mars Red P. Embryos are available from this combination. If you are interested, please contact us.
More females from the Reurslag family were scored during the classification day. This day had a great result due to an average score of no less than VG-85 for the Red Holsteins heifers. Highest scoring among the reds is a VG-87 Poppe Snow RF daughter Schreur Angela 3, granddaughter of Caps VVH Angela 3 Red VG-87. 
Three daughters of Schreur Sunny RDC were classified with an average no less than VG-86. Of these three Schreur Shimmer RDC half-sisters, Schreur Sunny 7 RF, a daughter of the bull Anreli-Red, took the crown with VG-87.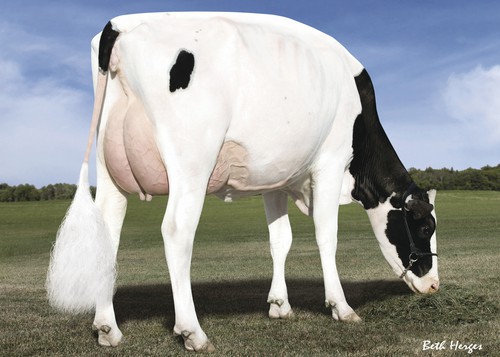 Des-Y-Gen Planet Silk RDC EX-90 (s. Planet) matriarch of the 'Sunny-line'
No less than six offspring from the Apina Massia family were successfully rated. For example, the Massia's at Scheur Holsteins scored an averaged of VG-86.1. Two daughters of sire Booking-Red, Massia 83 and Massia 84 received a wonderful classification score of VG-87 in their second lactation!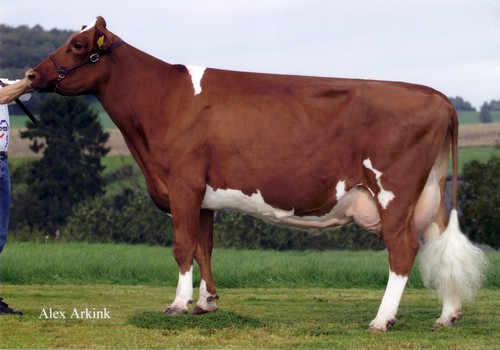 Apina Massia 21 EX-90 (s. Lentini), matrarch
No less than 19 of the 25 classified animals scored VG-85 or higher! Here is an overview of the highlights of this day:
| | | | | | | | | | |
| --- | --- | --- | --- | --- | --- | --- | --- | --- | --- |
| Name | Sire | Dam | Col | Lac. | FR | DS | MS | FL | TOT |
| Shirley 30 | Salve | Schreur Shiney 9 ET GP-84 | R | 5 | 87 | 89 | 90 | 88 | 89 |
| Angela 3 | Snow RF | Apoll Angel P Red VG-86 | R | 1 | 85 | 88 | 88 | 85 | 87 |
| Lomee 7 P | Mission P | Lomee VG-85 | R | 2 | 87 | 85 | 87 | 85 | 87 |
| Massia 83 | Booking-Red | Massia 65 GP-81 | R | 2 | 88 | 88 | 86 | 86 | 87 |
| Massia 84 | Booking-Red | Massia 54 Red n.c. | R | 2 | 86 | 85 | 87 | 87 | 87 |
| Serena 13 PP RDC | Apo PP Red | Serena 7 P VG-85 | Z | 1 | 84 | 88 | 88 | 85 | 87 |
| Sunny 7 RF | Anreli-Red | Sunny RDC n.c. | Z | 1 | 86 | 86 | 88 | 88 | 87 |
| Caralie 85 | Bart | Caralie 51 GP-80 | R | 1 | 87 | 85 | 88 | 83 | 86 |
| Liselot 2 P | Smiley RDC | Liselot n.c. | R | 1 | 87 | 87 | 87 | 85 | 86 |
| Massia 82 | Brasil RF | Massia 60 P Red VG-86 | R | 2 | 88 | 88 | 87 | 82 | 86 |
| Massia 87 RF | Brekem RDC | Gina 10 GP-82 | Z | 1 | 84 | 87 | 87 | 85 | 86 |
| Massia 88 | Brekem RDC | Massia 41 RDC | R | 1 | 87 | 87 | 88 | 81 | 86 |
| Shiney 37 | Anreli-Red | Shiney 30 VG-89 | R | 1 | 85 | 86 | 88 | 85 | 86 |
| Sunny 6 | Anreli-Red | Sunny RDC n.c. | R | 1 | 85 | 85 | 88 | 83 | 86 |