Proud to have bred Dukefarm K&L Balthazar
As a young genomic bull he was no. 7 LPI in Canada and now as a proven sire he seems even more popular: Dukefarm K&L Balthazar.
Balthazar has already 160 daughters in his proven index and he turns out to be an extreme component bull! His index for fat is +0.55 and for protein it is +0.51!!
Dukefarm K&L Balthazar was bred by Herman D'Hauwe and GenHotel and delivered to Semex. Balthazar is fine results for the breeders. Balthazar his dam Padkaer Epic Juliana was bought on the GenHotel Selection Sale and is from the Jelykoe cowfamily, the family that also brought Bookem son Big Point.
Balthazar is a very popular sire because of his components and the breeders who milk daughters seem very satisfied already!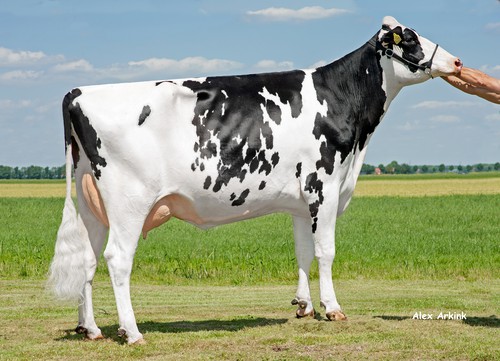 Padkaer Epic Juliana, dam of Balthazar and bought on the GenHotel Selection Sale