Hedra Remarlinda scored VG-88!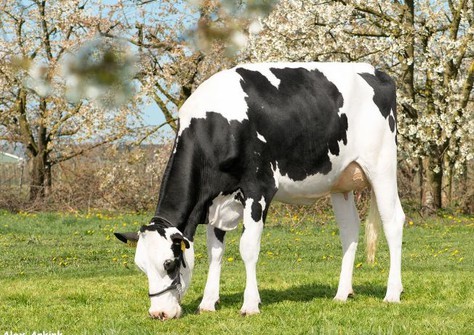 General
Hedra Remarlinda VG-88 (VG-88 MS), s. Bouw Finder
Hedra Remarlinda 810 is a very fancy Bouw Finder daughter at Hedra Holsteins, the Vernooij family in Schalkwijk. Remarlinda 810 has calved at 2.00 year exactly and was the first cow in the Finder progeny group at the NRM this year. She was chosen by the NRM judge as fanciest daughter of this group.
During the recent classification the well balanced Remarlinda 810, descending from the originally French Remarlinda EX-90 (s. Jocko Besne) cow family, is scored VG-88 and VG-88 for her high and well attached mammary system. With this great score she is the 12th generation VG or Excellent in a row! For milk production she is very persistent and projected 9.467 kg with 4.21% fat and 3.54% protein. Dam of Remarlinda 810 is Delta Riana VG-89 (s. Nelson), a maternal sister of the heavy used proven sires Danno (s. Bookem) and Saxobeat (s. Epic).
The six classified Holstein heifers at Hedra Holsteins this round scored in average 85.5 points total score and 85.2 for mammary. Also 2 cows, from the Plushanski Chief Faith EX-94 and the Apina Nadja EX-90 family, are rescored.
|   Name  |   Sire x MGS |   Cow family | Lac | FR | DS | MS | FL | TOT |
| --- | --- | --- | --- | --- | --- | --- | --- | --- |
| Hedra Remarlinda 810 | Finder x Nelson | Remarlinda | 1 | 88 | 87 | 88 | 88 | 88 |
| Hedra Illona 825 | Chuck x Jamaica | Ileika | 1 | 84 | 86 | 87 | 87 | 86 |
| Hedra Marie 798 | Bram x Titanium | Hedra Marie | 1 | 86 | 85 | 86 | 85 | 86 |
| Hedra Janna 807 | Topgear x Adidas | Wideview Janna | 1 | 86 | 85 | 84 | 88 | 86 |
| Hedra D Annecy 464 | Atlantic x Goldwyn | Plushanski Chief Faith | 3 | 87 | 89 | 87 | 86 | 87 |
| Delta Nicolien RDC | Stellando RDC  x Ramos | Apina Nadja | 4 | 84 | 85 | 86 | 88 | 86 |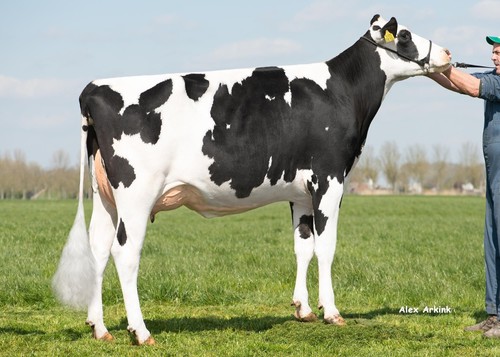 Hedra Remarlinda 810 VG-88 (VG-88 MS), sire Bouw Finder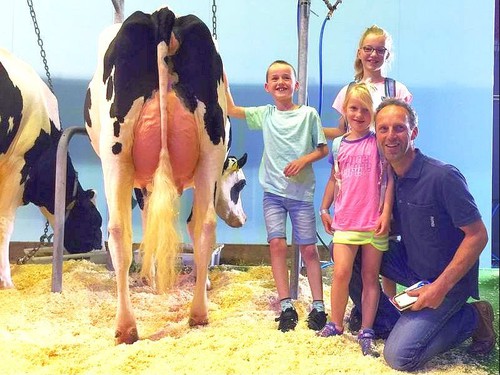 Hedra Remarlinda 810 VG-88, first cow of the Bouw Finder progeny group
                                                                       with Arjen Vernooij and kids at the NRM