Great results for HM Holsteins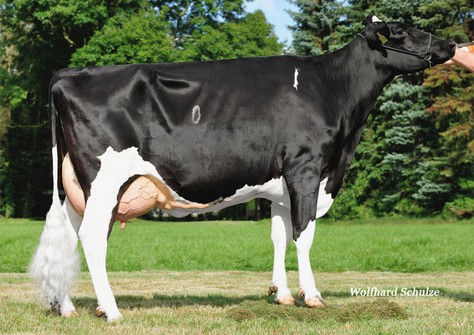 General
Granddaughter of WEH Gini VG-85 classified with VG-87!
At Moonen's farm (HM Holsteins) a classification day recently took place in which a total of 19 females were scored. A fourth calver Big Malki daughter was the eye-catcher of this day, she scored a beautiful VG-89.
The Big Malki daughter Delta Z Amit 68, already in her 4th lactation, is bred by HM Holsteins and received a  total score of VG-89. Headed with EX-90 DS and EX-92 for her beautiful mammary. The mating Brentano x Delta Z Amit 68 turned out well: her 2-yr-old daughter Delta Z Amit 58 scored VG-85!
MS Styx Glamourgirl RDC, purchased as a young heifer at the VOST Select Sale 2017, impressed the classifier. He rewared Glamourgirl RD with VG-87. The Styx Red daughter comes from a deep German cow family, free of Bookem and Balisto! 
Moonen also uses some polled sires; two polled heifers managed to excel with VG-86. One of these milking heifers is the homozygous polled HMH Country PP Red VG-86. She is a Lucky PP-Red daughter from the German Wilder Country PP RDC GP-83, bred by Wilder Holsteins. Via Country PP RDC GP-83 this cow family goes al the way back to the famous Apina Massia family!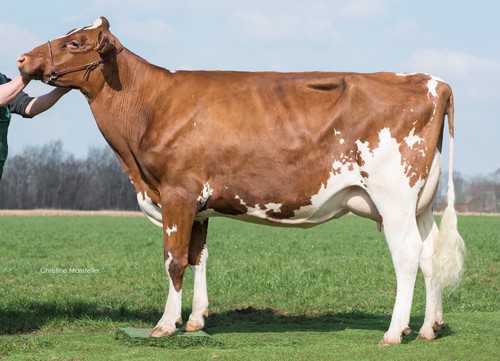 Wilder Coco VG-86 (s. Perfect Aiko), granddam of HMH Country PP Red VG-86
Zohra P 1 RF (a Pp Barny P RDC daughter) not only impresses with her VG-86, but also produces well! Her 305 days production is projected at 10,894 kgs milk with 3.54%f and 3.15%p. Zohra P 1 RF VG-86 also comes from a special cow family, namely: Windy-Knoll-View Promis EX-95. Zohra P 1 RF VG-86 is co-owned by 3STAR Genetics.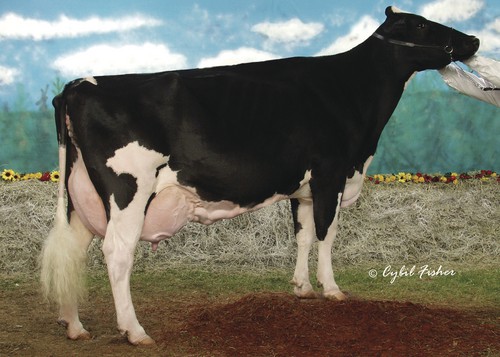 Windy-Knoll-View Promis EX-95, matriarch of Zohra P 1 RF VG-86 (s. Barny P RDC)
Moonen has a granddaughter of VOG Daria EX-90, named Dana 1. She is a Stantons Adagio P daughter and is also classified VG-86. This German cow family has delivered several bulls into AI, for example the proven bull Babylon.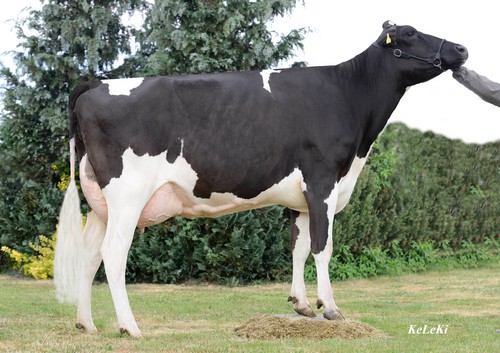 VOG Daria EX-90 (s. Bookem), granddam of Dana 1 VG-86 and fullsister to Babylon
Highlights:
| NAME | SIRE | DAM | COL | LAC | FR | DS | MS | FL | TOT |
| --- | --- | --- | --- | --- | --- | --- | --- | --- | --- |
| Delta Z Amit 68 | Malki | Delta Z Amit 53 VG-85 | Z | 4 | 88 | 90 | 92 | 87 | 89 |
| Glamourgirl RDC | Styx Red | WEH Galaxy n.c. | Z | 1 | 87 | 86 | 87 | 87 | 87 |
| Country PP Red | Lucky PP Red | Country PP RDC GP-83 | R | 1 | 85 | 87 | 85 | 86 | 86 |
| Gymnast Lien | Gymnast | Battlecry Lien n.c. | Z | 1 | 84 | 86 | 87 | 85 | 86 |
| Dana 1 | Adiago P | Goldene Aue Dana RDCn.c | Z | 1 | 87 | 86 | 85 | 86 | 86 |
| Zohra P 1 RF | Barny P RDC | Dukefarm K&L Zohra P n.c. | Z | 1 | 84 | 87 | 87 | 83 | 86 |