Twice excellent at Zandenburg Holsteins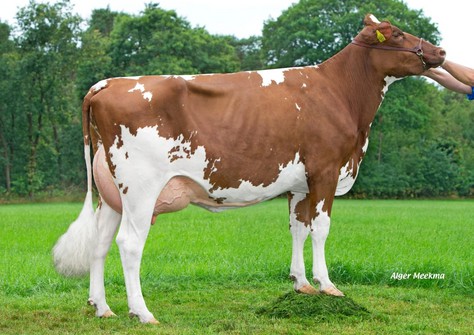 General
Zandenburg Fun Fabiola Red now EX-90!
The Sommers family (Zandenburg Holsteins) had something to celebrate recently! Not one but two cows received an excellent classification score!
We are talking about the fourth calver Zandenburg Cutchen Fabiola, sired by De-Su McCutchen and Zandenburg Fun Fabiola Red (s. Fun P), which is in her third lactation. Cutchen Fabiola was awarded with a fantastic score of EX-90 headed with EX-92 for her dairy strenght! Fabiola EX-90 her dam is a VG-88 MS Atlees Sht Aftershock. Cutchen Fabiola EX-90 her 305 days production is a nice side effect for the Sommers family. It's projected at 16,612 kgs milk with 3.2%f and 3.1%p! Fun Fabiola Red was also classified with a stunning EX-90 and EX-92 DS. The Delta Fun P daughter from Zandenburg Sam Fabiola VG-87 shows a lot of strenght and managed to achieve a 305-day production of 12,116kgM as a first calver. Even in her 3rd lactation she holds on this production very well!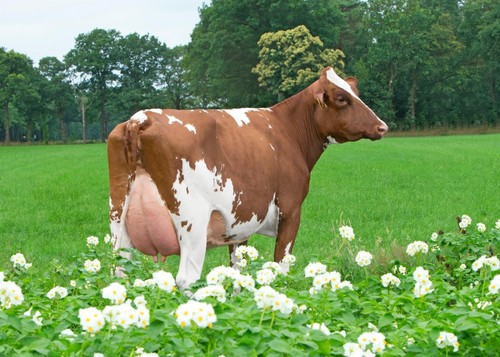 Zandenburg Fun Fabiola EX-90 pictured in her first lactation
Also more than 40 dairy cows and heifers received a (re-)classification. The highest scores mainly went to descendents from the Zandenbug Ebony family. For example, the second calver Zandenburg Jetset Ebony scored VG-88 with VG-89 MS and VG-89 FL. With this she was the highest scoring Ebony of the day. Jetset Ebony VG-88 is the daughter of Zandenburg Boss Ebony 3, one of the highest Boss daughters on gRZG and gNVI basis. Through Boss Ebony 3, Jetset Ebony VG-88 descends from one of the most Ebony's, namely Zandenburg Snowman Ebony 1 EX-90.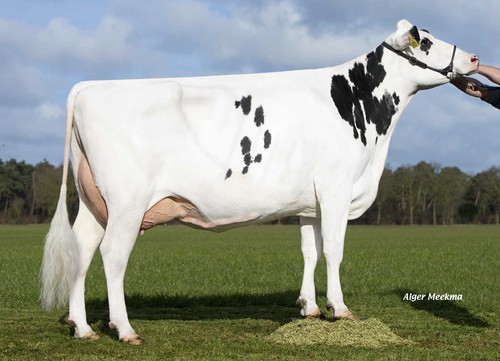 Zandenburg Snowman Ebony 1 EX-90, granddam of Jetset Ebony VG-88
Of the 41 classified cows, no less than 21 are descendants of the Ebony family. Together, these Ebony's got a great avarage total score of 84.2 points with VG-85.4 for their mammary systems! Here are the highlights of this day:
| NAME | SIRE | DAM | COL | LAC | FR | DS | MS | FL | TOT |
| --- | --- | --- | --- | --- | --- | --- | --- | --- | --- |
| Jetset Ebony | Jetset |  Boss Ebony 3 n.c. | BW | 2 | 87 | 84 | 89 | 89 | 88 |
| Sound S Ebony | Sound System | River Ebony RDC VG-85 | BW | 1 | 84 | 89 | 88 | 86 | 87 |
| Achiev Diamond | Achiever | Racer Diamond VG-88 | BW | 1 | 83 | 84 | 88 | 88 | 87 |
| Cyrano Ebony1 | Cyrano | Reflector Ebony VG-87 | BW | 1 | 85 | 86 | 88 | 87 | 87 |
| Louxor Ebony1 | Louxor | Lex Ebony VG-85 | BW | 1 | 87 | 88 | 89 | 85 | 87 |
| Durango Wieke | Durango | Glorious Wieke VG-86 | BW | 3 | 85 | 86 | 90 | 84 | 87 |
| Kerrig Ebony | Kerrigan | Pulsar Ebony1 VG-88 | BW | 2 | 87 | 87 | 89 | 83 | 86 |
| Styx Ebony RDC | Styx Red | Presid Ebony VG-87 | BW | 1 | 83 | 83 | 89 | 86 | 86 |
| Achiever Diamond 1 | Achiever | Racer Diamond VG-88 | BW | 1 | 84 | 84 | 86 | 87 | 86 |