Fantastic classification at Schreur Holsteins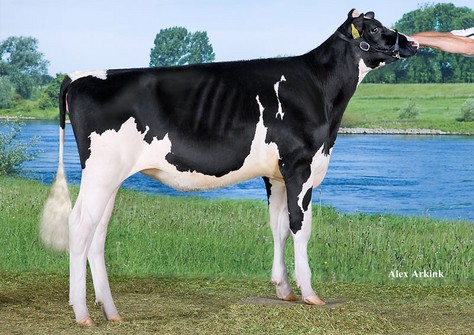 General
Daughter and granddaughter of Doreen RDC both got a score of VG-86
The last classification at Schreur Holsteins was very successful. While 14 heifers received their first score with an average of VG 85.4, three cows were rescored. On average, these 17 animals received a score of no less than VG-85.6 during this inspection! The highest classification score was for 4th calver Jotan -Red daughter Schreur E Ihlen 394 with VG-88 & EX-90 for dairyness.
The Reurslag family (Schreur Holsteins) is fan of Red Holstein and this can also be seen in the results of the inspection. Nine red and white animals were classified One of the animals that stood out the most is Schreur Caralie 77 P, a EDG Defend Breaker 18191 RDC daughter with VG-87 and maximum score of VG-89 DS. She is a descendant of the Canadian brood cow Continental Scarlet-Red EX-95. This cow family became renown in Europe by Verhages Bos Candlelight P Red VG-86. She is the dam of one of the most famous R&W and polled Schreur Apoll P Red, the actual number 2 proven Red Holstein sire in Germany and The Netherlands. By now, Reurslag already milks 24 descendants from Candlelight P Red VG-86. On average, the nine Red Holsteins deserved a fantastic total score of VG 86.3 !

Verhages Bos Candlelight P Red VG-86, granddam of Schreur Caralie 77 P
A striking lady is the VG-86 Schreur Janny 250 P Red. Janny 250 P Red VG-86 is sired by Schreur Argus P Red,  a son of Schreur Apoll P Red. Both bulls are bred by the Reurslag family and delivered to AI stations in Germany. Both Argus P Red and his sire Apoll P Red are former No. 1 in Germany!
At Reurslag there is also offspring of Golden-Oaks Mark Prudence EX-95  which perform great. For example the R&W daughter of Telgter Aikman Doreen RDC, Oosterbrook Lucky Danick P Red (s. Lucky PP Red) which is scored VG-86. Also Schreur Rose RDC, Salvatore RC daughter of OH DG Rose RDC VG-87 nailed it with a VG-86 at this classification day.
Schreur Sunny RDC's first milking daughters at Schreur Holsteins did get a great score. This special red carrier and great transmitting EDG Rubicon daughter has already provided many high male and female offspring, such as K&L SV Sunny Red [150 RZG/287 NVI/2626 TPI] and the young sire Schreur Shimmer RDC [212 NVI/2820 TPI], several runs highest red carrier sire globally. The daughter with the highest classification is Schreur Sunny 3 RDC (s. Nova Star) with VG-87 and a maximum score of VG-89 for MS!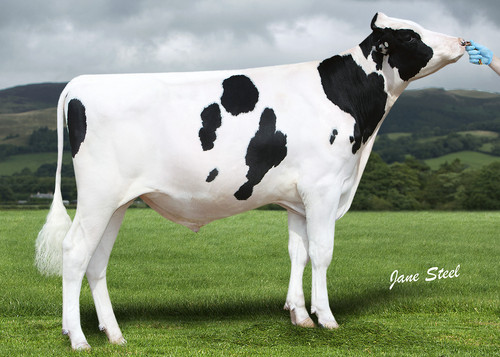 Schreur Shimmer RDC (s. Salvatore RC) his maternal sister got a fantastic VG-87
No less then 10 females got a score of >85 points! These cows are shown in the list below.
| Name | Sire | Dam | Color | LAC | FR | DS | MS | FL | TOT |
| --- | --- | --- | --- | --- | --- | --- | --- | --- | --- |
| E Ihlen 394 | Jotan Red | E Ihlen 232 | R | 4 | 88 | 90 | 88 | 87 | 88 |
| Caralie 77 P | Breaker RDC | Caralie 42 | R | 1 | 86 | 89 | 88 | 85 | 87 |
| Chieftess 100 | Laron P | Chieftess 82 | R | 5 | 86 | 90 | 89 | 84 | 87 |
| Sunny 3 RF | Nova Star | Sunny RDC | B | 1 | 87 | 87 | 89 | 84 | 87 |
| E Ihnen 443 | Brandy | E Ihnen 315 RF | B | 1 | 87 | 88 | 86 | 87 | 87 |
| Lucky Danick P | Lucky PP | DG Danick Red | R | 1 | 87 | 88 | 85 | 85 | 86 |
| Massia 62 | Accolade | Massia 34 | R | 3 | 85 | 88 | 84 | 86 | 86 |
| Charlotte 63 | Webmail | Charlotte 29 P | R | 1 | 87 | 87 | 87 | 85 | 86 |
| Janny 250 P | Argus P | Janny 247 | R | 1 | 85 | 86 | 88 | 85 | 86 |
| Rose | Salvatore RC | OH DG Rose RDC | B | 1 | 85 | 87 | 88 | 85 | 86 |