De Oosterhof and 3STAR Genetics incredibly successful with gTPI!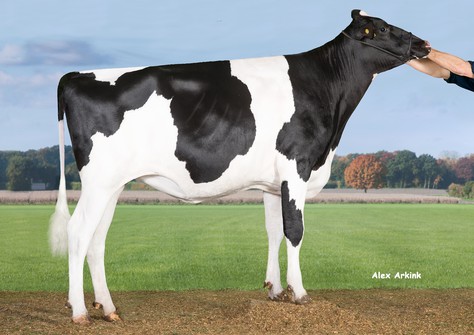 Genomics
K&L OH Mabel strikes again with high Nacash son
One of the highest, young gTPI B&W bulls in Europe at the moment is 3STAR OH Marcello (s. Nacash). This young star is bred and owned by De Oosterhof and 3STAR Genetics. Earlier they managed to combine their successes in breeding the number 1 gTPI & NM red and white female: 3STAR OH Sunnyside-Red.
3STAR OH Marcello's successful dam, Progenesis Granite daughter K&L OH Mabel, is also bred by De Oosterhof and 3STAR Genetics. Mabel already produced numerous high offspring, including 3STAR OH Marvelous, the full sister to Marcello with 2880 gTPI. Nacash son Marcello scores no less than 2935 gTPI / 760 NM and therefore belongs to the world's highest bulls! 
OH 3STAR Marcello is facing a successful future and will soon head to an AI organization in the UK.