Polled and top genomics from Larcrest Juror Chanel EX-93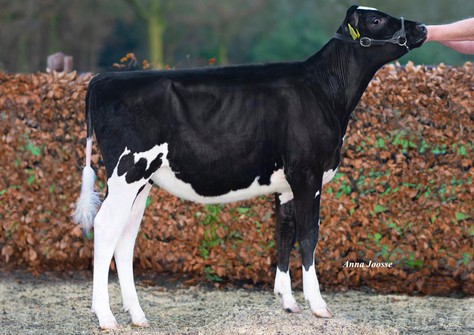 Sales
Lot 35. HET Gladius Cherise
At the upcoming Highlight Sale Hurkmans ET sells two fantastic heifers from the Larcrest Outside Champagne EX-90 branch, from the family of the renown brood cows Larcrest Cosmopolitan VG-87, Drouner AJDH Cosmo EX-90, Larcrest Crimson EX-94 and Larcrest Juror Chanel EX-93!
The stage is all set for this outstanding high index cow family. Hurkmans also saw the tremendous potential and popularity of one of the world's most widely renown Holsteins: Larcrest Juror Chanel EX-93. By purchasing embryos out of Diepenhoek Chanel VG-87, Hurkmans created his own successful branch via HET SOU Chenile VG-87 (by Sound System), from which high scoring offspring are born.
At the 31st Highlight Sale, that will take place only online on Friday, January 7th, Hurkmans sells two high-scoring maternal sisters out of HET KE Cheyenne, a direct De-Su Kenobi daughter from Chenile VG-86. Cheyenne is just fresh and is projected at 9,416 kgs of milk with 4.20% fat and 3.53% protein in 305 days. 
Lot 35 HET Gladius Cherise - A2A2
(Gladius x Kenobi x VG-86 Sound System)
With Gladius Cherise you get an absolute gem: the number 1 gRZG globally! Not only is she the highest heifer of this sale with 173 gRZG and 3098 RZ€, but Gladius Cherise also ranks particularly well on NVI with 405. Lot 35 also shows a very high 221 gISU, 948 NM$ (2882 gTPI), 1698 gISET and PFT of 4705 (preliminary)!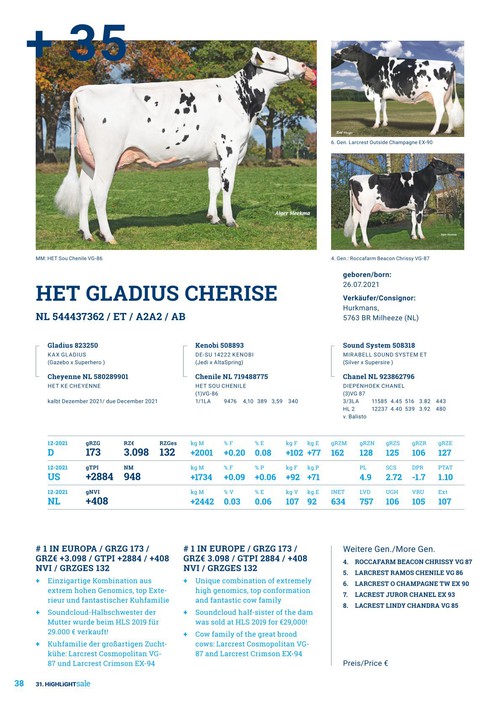 Lot 30 HET Star Chelly Pp - BB
(Star P RDC x Kenobi x VG-86 Sound System)
This heterozygous polled Star P RDC out of HET KE Cheyenne shows a pretty complete transmitting profile. Star Chelly Pp with 158 gRZG scores especially high on fat & protein %, kilo's fat and protein and udderhealth. She's also BB and A1A2, which makes her together with Pp an interesting donor and future bull dam!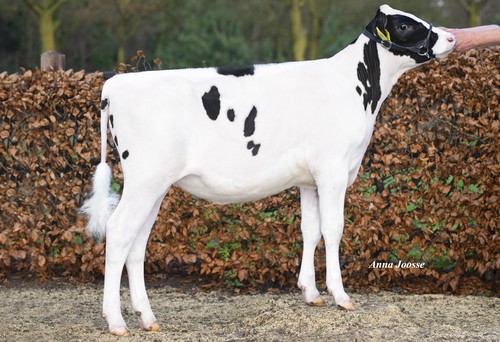 Lot 30. HET STAR Chelly Pp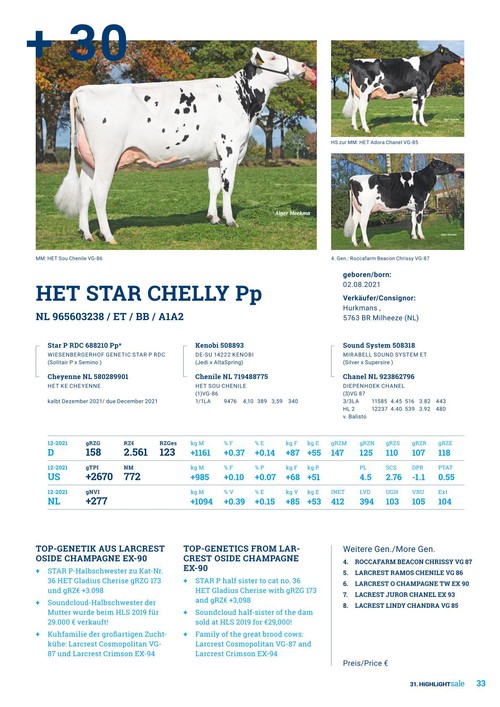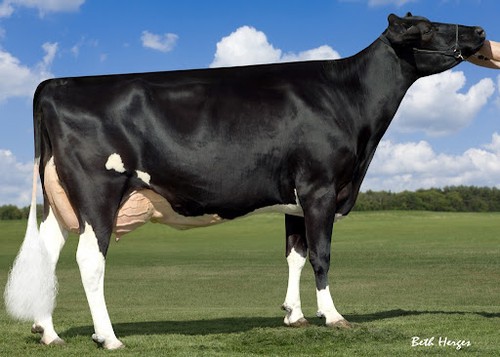 Larcrest Constance EX-90 (Regancrest-HHF Mac x Larcrest Outside Champagne EX-90)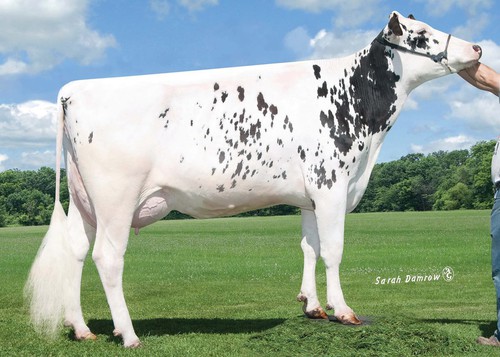 ​Larcrest Carabella VG-86 (Shottle x Larcrest Outside Champagne EX-90)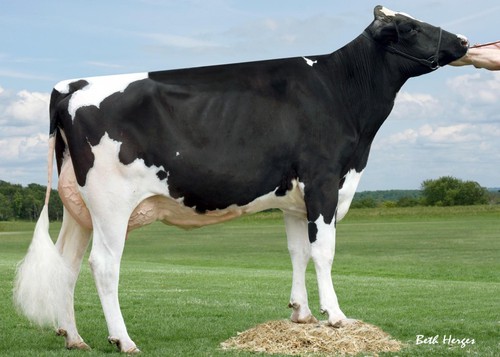 5th Dam: Larcrest Chenile VG-86 (s. Ramos)