Full sisters by Silky X Wilder Konzert RDC classified
Sales
Wilder K25 Red EX-90 (s. Brekem RDC)
Two Silky Red granddaughters of Wilder K25 Red EX-90 were recently classified with a well-deserved VG. The two red descendants from the 'Wilder-K' family are an outcome of the 3STAR Breeding Program. With their great qualities these two milking heifers make a solid contribution to the success of the one-year old 3TAR prefix. 
Both K&L SK Konzert Red and K&L SK Kontiki Red are recently classified VG. A few weeks before the classification day they posed in front of the camera, while the youngest of the two, Kontiki Red, was only fresh for one month.
These two milking heifers are daughters of Wilder Konzert RDC (s. Battlecry), from which GenHotel has invested in embryos resulting in these two beautiful, promising heifers (see pictures below). Their 131 gRZE & 127 EUT scoring full brother, Wilder K&L SK Kontra, is doing very well at the German AI-organisation RUW.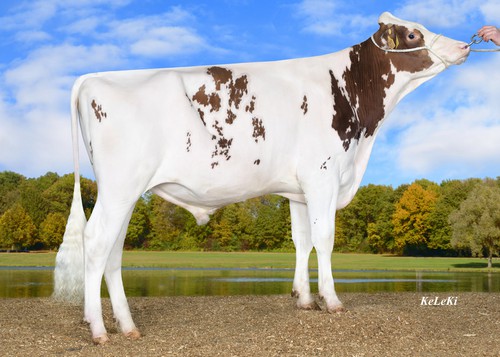 Wilder K&L Kontra-Red (Silky Red x Wilder Konzert RDC)
But the success of the Wilder-K family doesn't stop here, since the next ones are ready to pop! K&L SK Konzert Red has a Percey-Red son in AI. And Aalshorst Holsteins owns, by participating in the 3STAR EmbryoProgram,  a 324 gNVI/ 153 gRZG Westcoast Swingman Red daughter named Aalshorst 3STAR Konzert 1 Red. Konzert 1 Red could be the next bull dam in line, because she delivered already several embryos to German AI studs! 
NEW! Right now we have a special 3STAR EmbryoProgram offer. K&L SK Konzert Red her polled Caudumer Solitair P Red-daughter K&L ST Kornelia P Red produced embryos with semen of Mars P-Red (161 gRZG /125 RZS /128 RZE /132 EUT). Interested? Don't hesitate to contact us! 
Offspring of K&L SK Kontiki Red does very well based on their promising genomic results. One of her numerous promising descendants is Caudumer Solitair P Red daughter 3STAR ST Kontika P Red, which was sold last year during the GenHotel Selection Sale. Kontika P Red is contracted for embryos by multiple studs, due to her high genomics scores and lovely pedigree!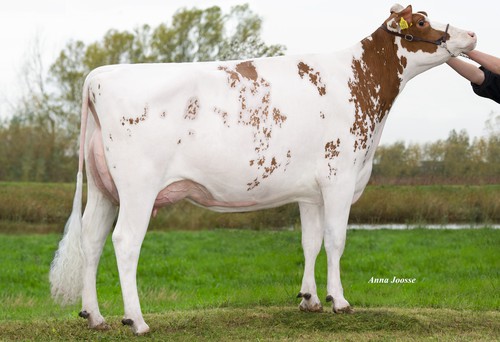 K&L SK Konzert Red: 87 FR -  87 DS - 88 MS - 89 FL - TOT 88
305 d.: 9.294 kgs Milk 4.27% F & 3.65% P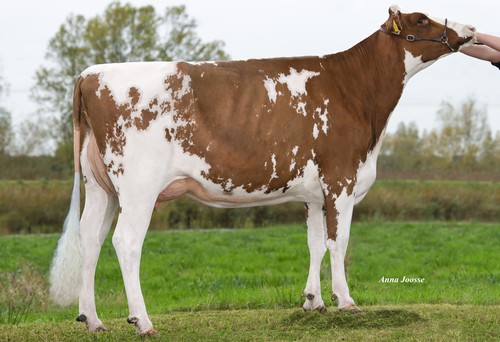 K&L SK Kontiki Red: 86 FR - 85 DS - 84 MS - 86 FL - TOT 85
305 d.: 8.820 kgs Milk 4.01% F & 3.38% P