Cutting edge genetics from Spottie!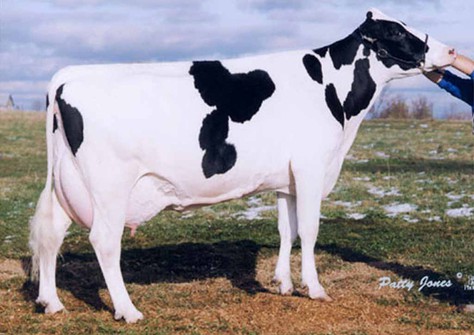 Sales
Sunnylodge Prelude Spottie VG-87, foundation dam
In high demand and very attractive: offspring of sire Delta Cartoon P Red with high breeding values! HM Holsteins offers you this opportunity during the upcoming SonderKollektion, which takes place next week Friday evening, February 3rd.
From the Canadian Cow of the Year Sunnylodge Prelude Spottie VG-87, HM Holsteins bought the top-genomic transmitter Exloër Belle, a Genesland Bellroy-sister to the high genomic young sire 3STAR Signal P @RUW. Belle was at that time the number 1 gRZG and number 2 gRZ€ Bellroy worldwide! She will freshen for first time in March.
Heifer flushes of Belle resulted in the birth of Delta Cartoon P Red daughter HM Belle RDC. This impressive cow family and the potential to score high in multiple systems are the reason that Belle RDC was tested in several systems. Stunning scores of 161 gRZG (2580 RZ€), 339 gNVI, 4360 gPFT and 214 gISU with a lot of milk turned out to be more than worth making this mating! 
From this Spottie branch also Gen Goodlife and the great show cows DT Spottie EX-93 (by Derry) and her daughter Fux Seattle EX-97 (by Goldchip) - Grand Champion Schau der Besten 2020 and Senior Champion German Dairy Show 2019 hail. Further on in Belle RDC her pedigree we find as sixth dam, the former number 1 gTPI female in Europe: Baviere VG-87 (by Shottle).
Also invest in this multifunctional cow family?
Go get lot 15 HM Belle RDC (Cartoon P-Red x Bellroy x VG-87 Imax)
Belle RDC's video will soon be available at FarmersBid.com!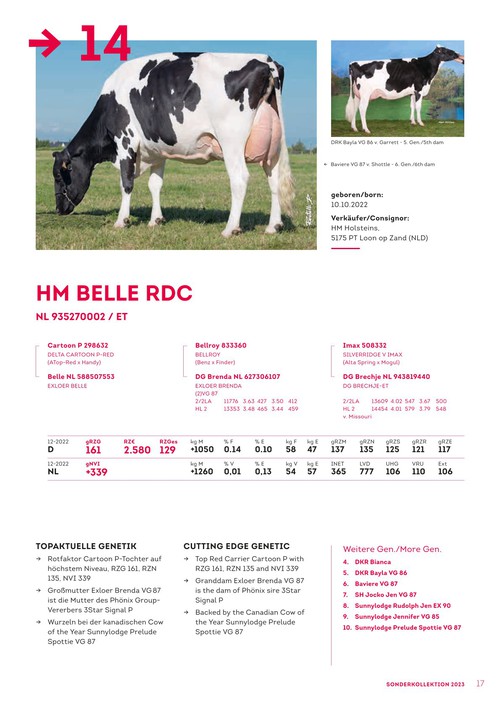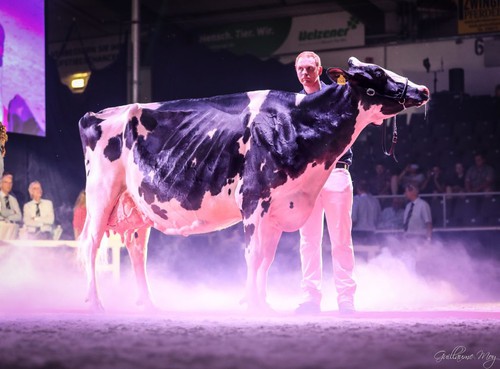 FUX Seattle EX-97 (Gold Chip x EX-93 Derry x VG-86 Lee x Sunnylodge Jennifer VG-85)

3STAR Signal P (Simon P x Exloër Brenda VG-87)