2804 gTPI & 152 gRZG scoring Captivating
Sales
Gold-N-Oaks S Marbella VG-89
Already several heifers from the Gold-N-Oaks Morty Malibu EX-94 family have been consigned to different sales and/or are contracted for embryos. Lindenhof Holsteins is now well on its way to create their own branch from this powerfull brood cow.
More information about the Sonderkollektion.
Lindenhof Holsteins has bred from the Gold-N-Oaks Harper 2278 VG-86 branch of Morty Malibu EX-94 several generations now. From the first lactation Cal-Roy-Al Yoda daughter HLB Helene, HLB Helen (by Larcrest Captivating) was born. Not only is she scoring 2804 gTPI and 152 gRZG, she has also a complete transmitting profile with positive components and 133 gRZE. The proven bull Felix is a full brother of Helen's granddam HLB Helena GP-84, which production is projected 11,367 kgs of milk with 4.30% fat and 3.69% protein in her second lactation.
The number 1 LPI proven sire in Canada, Westcoast Alcove (Duke x MVP), is a 5th-generation-descendant of Morty Malibu. The well-known multiple bull dam Pen-Col Superhero Mistral VG-89 (by Superhero) is a family member too. The branch of which she is a part of breeds also very well on RZG, NVI and TPI!
Lot 34 HLB Helen (Captivating x GP-83 Yoda x GP-84 Federal)

Tremendous brood cow : Gold-N-Oaks Morty Malibu EX-94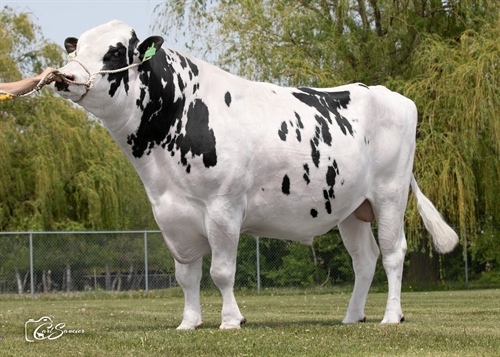 Westcoast Alcove (Duke x MVP x Epic), number 1 LPI proven sires in Canada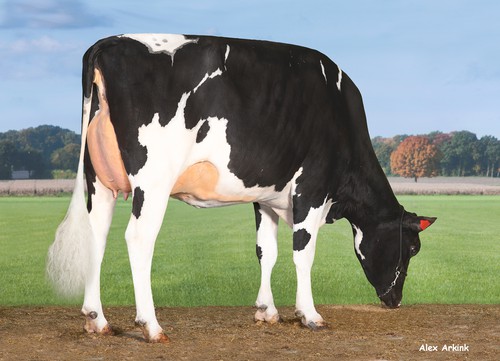 Same family: ​Pen-Col Superhero Mistral VG-89 (Superhero x Pen-Col Silver Missy)