Successful VOST Select Sale
Sales
Sale-crew with top-seller
The VOST Select Sale 4 was held Friday evening in a great atmosphere in the Ostfrieslandhalle in Leer (Germany). Topping the sale was lot 32: Wilcor O'Karamba Red, a lovely Awesome Red granddaughter of Decrausaz O'Kalibra EX-97 carrying multiple embryo contracts. She sold for € 13.000 to Italy.
Second highest lot of the sale was Wilder Hindu (lot 29). This +2718 GTPI Jedi daughter of Wilder Hira VG-85 (Saloon x VG-85 Snowman x VG-87 Goldwyn x Batke Outside Kora EX-94) sold for €11.600 to Poland.
On behalf of the entire sale-organization, we wish all buyers good luck with their purchase(s).
Top 6 VOST Select Sale 4
| Lot | name | peidgree | price | buyer |
| --- | --- | --- | --- | --- |
| 32 | Wilcor O'Karamba Red | Awesome Red x Sid x O'Kalibra | € 13.000 | Oltimex (IT) |
| 29 | Wilder Hindu | Jedi x Batke Outside Kora familie | € 11.600 | Skup (PL) |
| 60 | ViG Arizona | Beemer x Chief Adeen familie | € 8.600 | PrismaGen (DE) |
| 36 | Wilder K2031 RDC | Battlecry x Wilder Kanu 111 familie | € 8.400 | Bouw Holsteins (NL) |
| 50 | First choice | Dozer x Balisto x Rudy Missy familie | € 7.200 | Oltimex (IT) |
| 30 | Veenhuizer K&L BD Nelize 7 | Board x Veenhuizer K&L BL Nelize | € 6.800 | Vendairy Holsteins (NL) |

A few pictures of the sale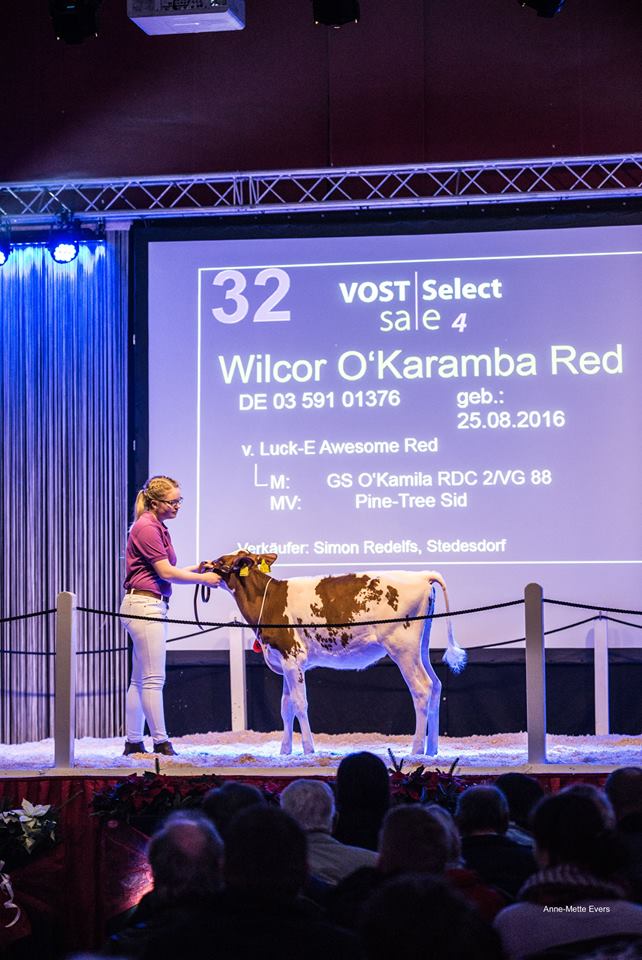 Wilcor O'Karamba, the highest seller in the sale ring

Wilder Hindu (lot 29)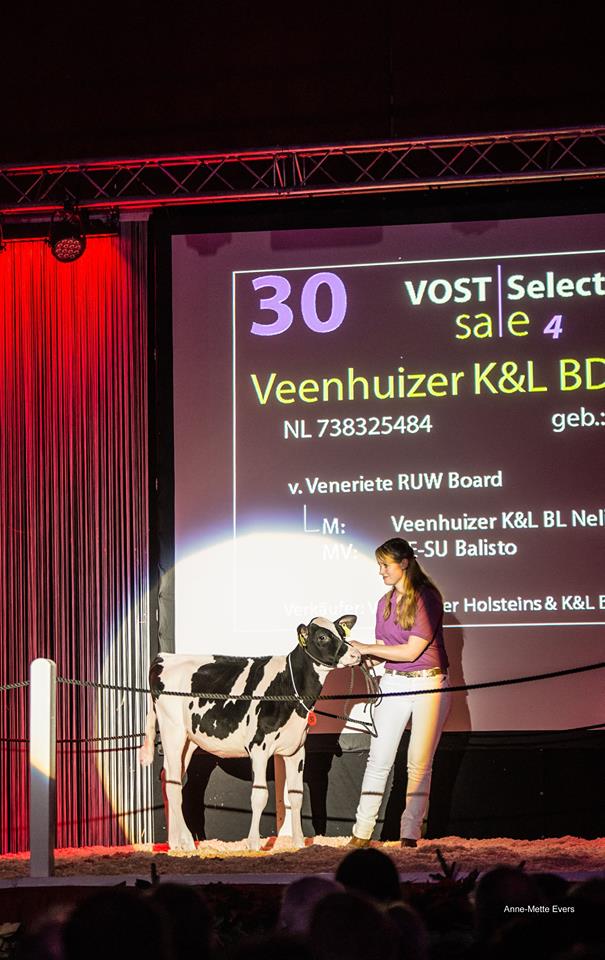 Veenhuizer K&L BD Nelize 7 (lot 30)

Auctioneer Arno Grengs in action