Magnificent milking heifers at Highlight Sale
Are you looking for something 'udderly good' from extremely interesting cow families? Tonight during the Highlight Sale there will be 9 milking heifers sold!
Videos of these heifers can be found on salesroom.live-sales.com. These can only be watched after you have an account at live-sales.com and also activated your account! You can also bid during the 'pre-bidding' after registration. Tonight from 8.00PM (C.E.T.) you can follow the Highlight Sale online, where the lot numbers will be auctioned in catalogue order.
Lot 12 KNS Miss Batch P [Batch P x VG-85 Board x GP-84 Balisto]
Full sister from the AI sire KNS Bachelor P. 2nd milkrecording: 32.5 kgM, 4.11%F & 3.41%P
LOT 13 THI Dallas VG-85 [Sound System x VG-86 Racer x VG-87 Mogul]
From the De-Su 7012 EX-92 family. 2nd milk recording: 39.1 kgM, 4.06%F & 3.60%P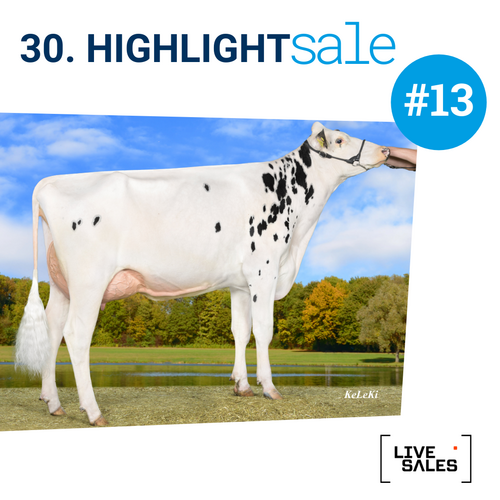 LOT 15 Brinta P VG-85 [Steel PP x VG-89 Gorch Fock x VG-89 Mr. Sam]
Conant-Acres-JY Bell-Steff EX-92 family. 3rd milk recording: 29.8 kgM 3.93%F & 3.18%P 
LOT 29 KOE Ladysun Red [Jordy-Red x GP-84 Arvis x VG-86 Pitbull]
Robthom Ivory Mark EX-94 familY. Current production +/- 36kg/day. 
Video at live-sale.com.
LOT 31 COL Feeling VG-86  [Undenied x VG-87 Beemer x VG-87 Delta]
 Quality Astre Felic EX-95 family. First milk recording: 36.3 kgM, 3.46%F & 3.10%P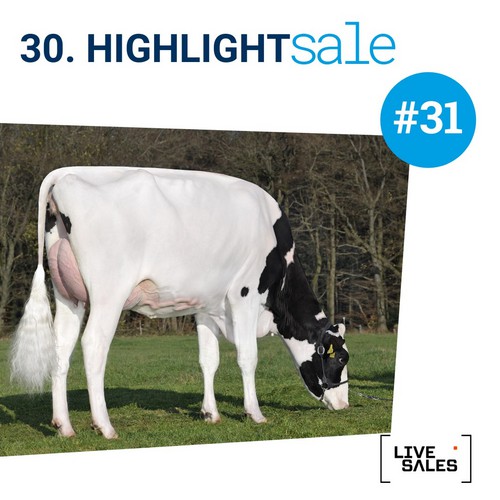 LOT 49 WIT Indoor [Doorman x VG-87 Golden Dreams x EX-90 McCutchen]
From the famous showcow M.E.DAL Stormatic Ilma EX-95. 2nd milk recording: 35.3 kgM. 
Video at live-sales.com website.
LOT 50 KNS Miss Semino P [Semino x VG-85 Board x GP-84 Balisto]
Full sister of AI sire KNS Simon P. 2nd milk recording: 34.2 kg M, 3.91%F & 3.37%P
LOT 51 KOE Lorna Red [Jordy-Red x EX-92 Destry x VG-85 Megall]
From the Junior Champion DHV Show 2015. Produces ± 34kg milk per day
LOT 52 Nadja [Shottle x VG-85 Defender x GP-84 Goldwyn]
Ready to show: 35.7kgM, 5.57%F & 2.86%P. 
Dec 8th 2020 inseminated with Rafting (sexed).