Tremendous offer for show lovers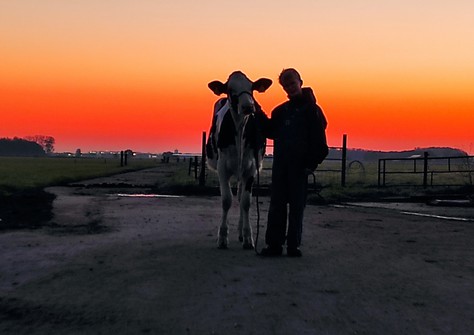 Although the Highlight Sale is richly filled with a beautiful offer of heifers with sky high indexes, we can also please the lovers of Holstein and Jersey showtype with a grandiose and talented offer!
For example, you can get a granddaughter from one of Europe's most successful show cows - ever, Lady Gaga EX-97, a great red carrier granddaughter of 'Miss Ostfriesland 2017' or go international with a +3.20 gPTAT Thunder Storm descendant of Silvermaple Damion Camomile EX-96!
Watch the videos of these show toppers on salesroom.live-sales.com. Note: These can only be watched after you have created an account at live-sales.com and also have activated your account! You can also bid during the 'pre-bidding' after registration. Tonight from 8.00PM (C.E.T.) you can follow the Highlight Sale online, where the lot numbers will be auctioned in catalogue order.
 LOT 8 Redberry Red
LOT 09 KOE Lady Gail

Warrior-Red x VG-85 Maxbo-Red x VG-88 Awesome-Red

1st Grade x VG-85 Undenied x EX-97 Modest

Stookey Elm Park Blackrose EX-96 family with 9 gen. VG/EX

Granddaughter of the unrivaled show queen Lady Gaga EX-97, with a lifetime production of >118.000 kg milk!

 
 
LOT 48 VISSTEIN 3STAR Molly
LOT 20 RZN Vivien

Jamie x VG-85 Tequila x VG-87 Sultan

Gentry x EX-96 Response x EX-97 Centurion

Jiff Little Minnie EX-96 - Grand Champion Royal & All Canadian '02 & '04.

Daughter of Supreme Champion WDE'14 & granddaughter of Supreme Champion WDE'06 + Grand Champion WDE'04 &'06!

 
 
LOT 10 WILCOR Faithful
LOT 40 NH Azzopardi Silence Red

Goldchip x EX-91 Shottle x EX-90 Morty

Unstopabull-Red x VG-87 Arvis x VG-86 Snowman

Unbelievable: 10 Generations EXCELLENT in a row!

Daughter of Reserve Junior Champion GDS 2019 & Res.All-German '19 from the Des-Y-Gen Planet Silk EX-90-family

 
 
LOT 35 B&S Upgrade Arizona 

+2.74 PTAT

LOT 37 MOX Prinzessin RDC

Thunder Storm x VG-85 Undenied x VG-86 Archrival

Jordy-Red x VG-87 Godewind RDC x EX-92 Princes

Cowfamily, show & PTAT! From the fancy MS Kinstead Chief Adeen EX-94 family. (Picture from last summer)

Granddaughter of 'Miss Ostfriesland 2017' from the special Holbra Patty VG-88 / Golden-Oaks Mark Prudence EX-95 family