Classification score of VG-87 for Rosebud-Red daughter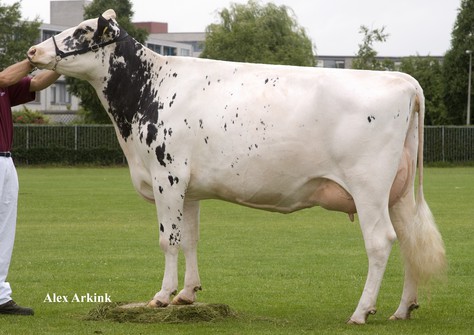 General
Veenhuizer Zadia 15 VG-88 (s. Shottle), 4th dam Red Rocks K&L Zora 6 Red VG-87
During the classification score at Red Rocks Holsteins, beautiful scores were handed out. The dairy farm of the Wesselink family is largely coloured with R&W, this is mainly due to the great influence of the Red Rocks Massia cow family within this herd. Slowly the herd fills up with other great cow families, such as the VG-87 classified Delta Rosebud-Red daughter from the renown Zadia family.
Red Rocks K&L Zora 6 Red (s. Rosebud-Red) was the highest scored heifer of this classification with her great score of VG-87 and VG-88 MS. Zora 6 Red VG-87 comes from a beautiful and originally B&W cow family, namely that of Kemview Mark Zsa Zsa EX-90. The Rosebud-Red daughter is jointly bred and owned with 3STAR Genetics.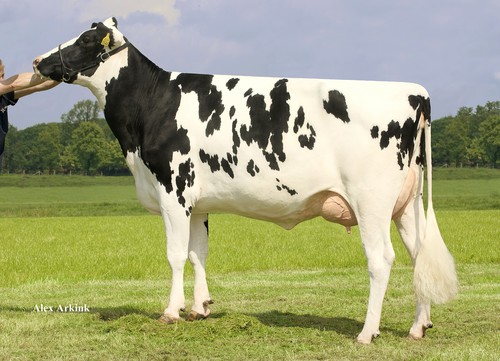 ​Kossinkhoeve Zadia 1 VG-86 (s. Planet), granddam of Zora 6 Red VG-87
Another milking heifer that also threw high eyes during the classification day is Red Rocks Massia 177 Red. The Topspeed Geert daughter from the Massias, scored with VG-86, received no less than VG-88 for both her frame and her dairy strength! This Massia 177 VG-86 is the granddaughter of bull dam Red Rocks Massia 49 GP-84.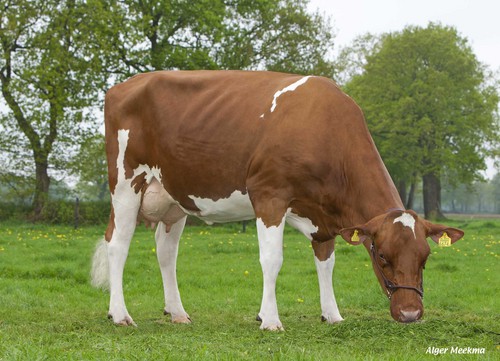 Red Rocks Massia 49 GP-84 (s. Pepper) granddam Massia 177 VG-88
Two 3 calvers from the Massia's were also re-scored with VG-87. Wilder Kanu P Red daughter Red Rocks Massia 137 improved her score by achieving a stunning VG-89 for FR and DS. And Massia 141, sired by Visstein Peak RDC, improved her score by rewarding her beautiful milk type with a great EX-90! 
The highlights of this day are shown below: 
| | | | | | | | | | |
| --- | --- | --- | --- | --- | --- | --- | --- | --- | --- |
| Name | Sire | Dam | COL | Lac | FR | DS | MS | FL | TOT |
| Massia 141 | Peak RDC | Massia 75 GP-84 | R | 3 | 89 | 90 | 87 | 87 | 87 |
| Massia 137 | Kanu P Red | Massia 29 VG-89 | R | 3 | 89 | 89 | 87 | 84 | 87 |
| Zora 6 Red | Rosebud-Red | Zora 2 RDC n.c. | R | 1 | 87 | 86 | 88 | 86 | 87 |
| Jacoba 1 Red | Fireman-Red | Jacoba 127 P Red | R | 3 | 85 | 88 | 85 | 86 | 86 |
| Massia 177 | Geert | Massia 81 VG-85 | R | 1 | 88 | 88 | 85 | 85 | 86 |
| Massia 173 P.P. | Lucky PP-Red | Massia 135 P Red GP-84 | R | 1 | 86 | 87 | 86 | 85 | 86 |
| Warsi 13 | Babylon RDC | Warsi 9 Red VG-87 | R | 1 | 86 | 88 | 86 | 84 | 86 |
| Massia 180 | Brandy | Massia 52 VG-85 | R | 1 | 85 | 86 | 86 | 84 | 85 |