Poppe Fienchen 1569 Red shows a lot of qualities!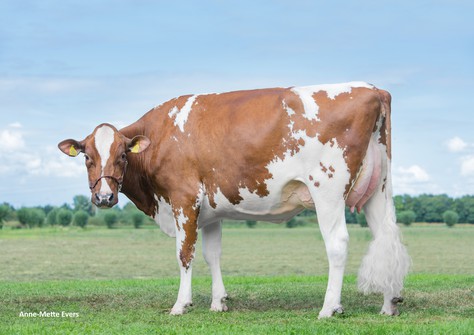 General
Poppe Fienchen 1569 Red n.c.
The 161 RZG and 279 NVI scoring Wilder Born P RDC daughter Poppe Fienchen 1569 Red is now two months fresh, but already shows many characteristics that the Poppe Fienchen family is renown for. This is not only clear from her profile, but she also shows these in the beautiful pictures!
Her name already reveals she is a descendant of the great breeding Fienchen family. A cow family that has already brought a lot of success for the Poppe family, including proven sires Poppe Ferdi and Poppe Efrain-Red and many high genomic young sires. Recently this beautiful R&W Born P RDC daughter was captured on camera. Although she is still quite fresh, she exudes enormous potential and strenght! Fienchen 1569 Red her dam, Poppe Fienchen 1134 RDC GP-84 (s. Silver) was used as a bull dam. For example, she is dam of the Pace son Poppe Frisk-Red @VOSt, Germany.
At the moment her 305-day lactation is projected at a nice 9,066 kgM with 4.25%f and 3.61%p. A Swingman daughter of Fienchen 1569 Red, called Poppe Fienchen 9080 Red, scores a fantastic 155 RZG and 338 NVI on Red Holstein base! Also three of her young sons will be delivered to AI organisations, including the current No. 3 gNVI bull Poppe Freestyle-Red and the full brother of the above mentioned Swingman daughter. 
The current genomic profile combined with the pedigree and Fienchen 1569 Red her looks let the interest grow. All the more reason for Poppe to flush her again.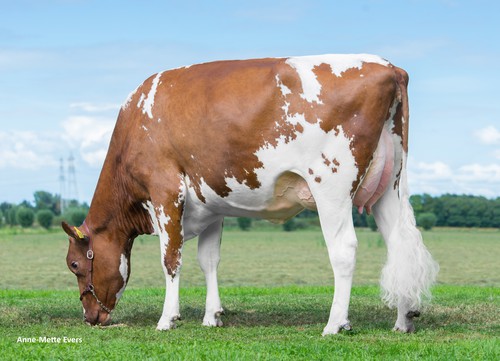 The beautiful Poppe Fienchen 1569 Red (s. Born P RDC)

Poppe Fienchen 1134 RDC GP-84 (s. Silver), dam of Poppe Fienchen 1569 Red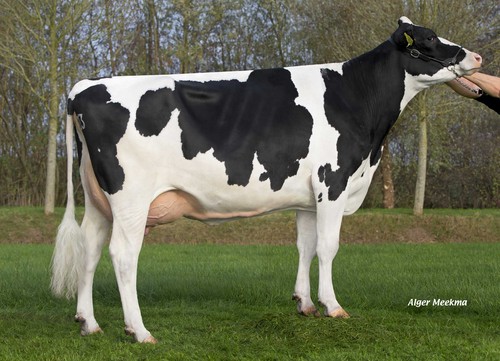 Poppe Fienchen 803 RDC VG-86 (s. Danillo), granddam of Poppe Fienchen 1569 Red