Another daughter of K&L SV Sunny Red pictured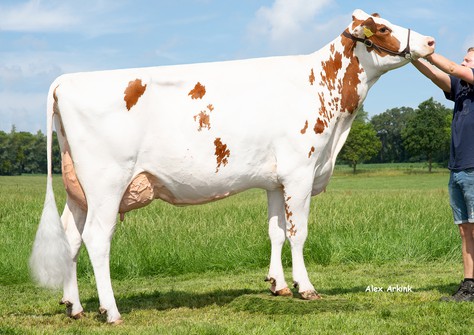 General
K&L SV Sunny Red, dam of K&L OH Shiner Red
At the beginning of August we introduced K&L SV Sunny Red and her DG OH Rubels-Red daughter 3STAR OH Sunnyside Red. Sunny Red, a red Salvatore daughter from the American cow family of Des-Y-Gen Planet Silk, knows how to surprise us time after time with her breeding power. Now a second Rubels-Red daughter of Sunny Red, K&L OH Shiner Red, was also allowed to appear in front of the camera; And she's beautiful!
K&L OH Shiner Red does an amazing job with tremendous genomics of 160 RZG / 2822 gTPI and as a R&W heifer, just like her full sister, she belongs to the absolute top of Europe! Not to be missed is also her A2A2 Beta Casein. It won't be long before this Shiner Red will be prepared to deliver beautiful offspring!
Another wonderful result of the collaboration between De Oosterhof and 3STAR Genetics. This Rubels-Red daughter is perfectly housed at GenHotel member Poppe Holsteins.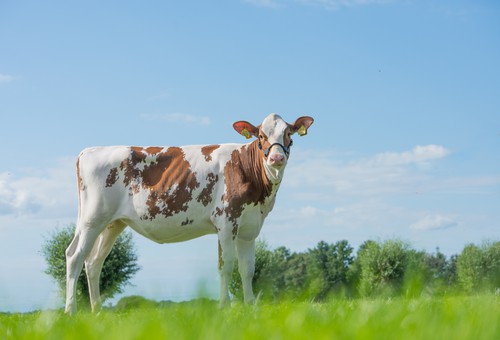 K&L OH Shiner Red (s. Rubels-Red) / Photo: Anne-Mette Evers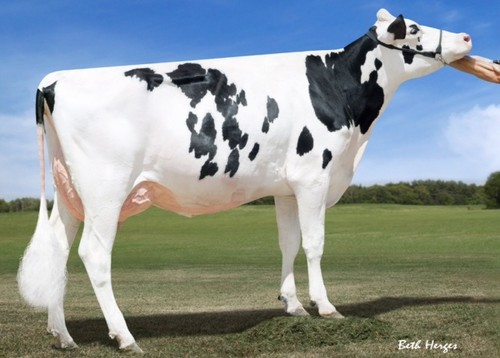 Dymentholm Sunview Sunday RDC VG-87 (s. Snowman) 4th dan of K&L OH Shiner Red